|
Oaxaca Gets It
|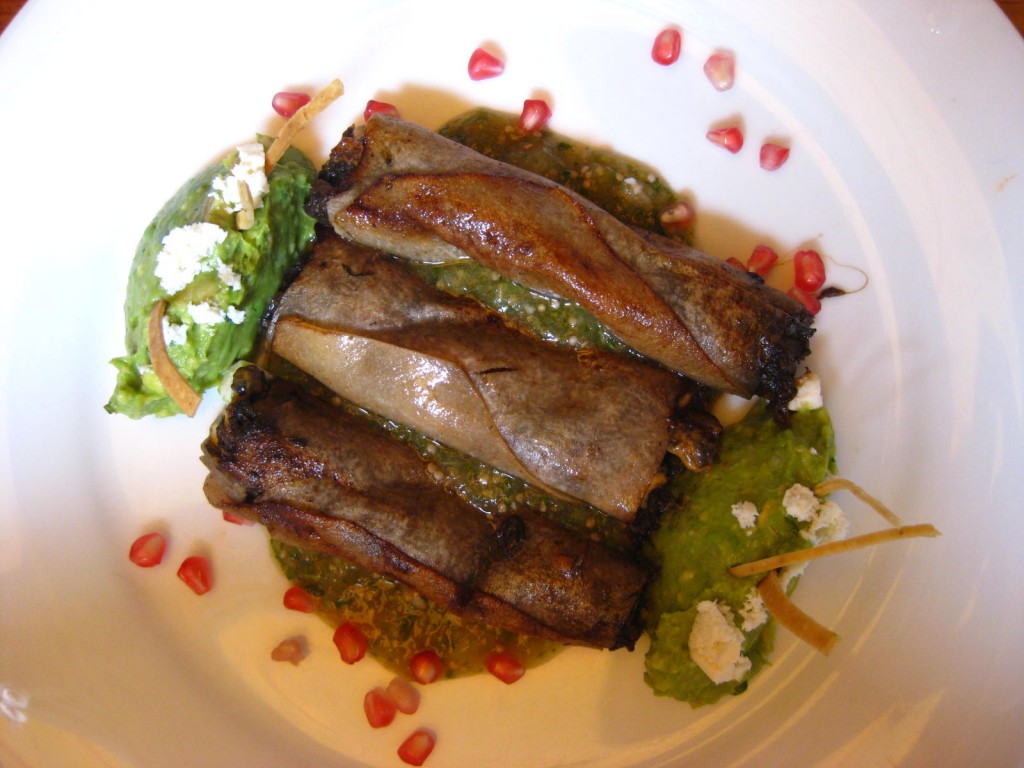 Now we know why Oaxaca City, capital of Oaxaca state, is known far and wide as the food mecca of Mexico. The art of Mexican cuisine is revered here, savored slowly, with home cooks and restaurant chefs zealously guarding personal secrets for moles (they make 7 major kinds here) and other Oaxacan delights. But as a result of our visit we have even more good news: the best Oaxacan cooks insist that their raw ingredients be criollo—clean, of high quality, and, increasingly, organic.
One of these is Alejandro Ruiz Olmedo. Many consider him the finest chef working in Oaxaca today, and we won't argue. His cuisine is traditionally based yet inventive and spectacularly flavorful. He hails from a family of farmers, and grew up milking cows and goats and tending to crops. (Today he still buys his organic corn from his grandfather, his uncles and former neighbors in his home village.) He's come a long way from the farm. We first meet him at Casa Oaxaca, his elegant hotel and restaurant in the heart of the centro histórico, and we are immediately impressed with his energy and easy, unaffected charm. He doesn't claim that his hotel can be called green yet, but he does say he wants it to head in that direction. For now, he points to the natural materials used exclusively in the guest rooms, and exterior walls finished in a traditional whitewash using calcium. His cleaning products are becoming more earth friendly. Plastic bottles are soon to be banned. And next year, he promises, solar panels will supply the hot water. The restaurant here is intimate, geared mainly to hotel guests, and Chef Alejandro is frequently hands-on in the kitchen.
(Since we are on the subject, a quick note about eco-friendly lodging in Oaxaca. It's not easy to find. Although we have not yet stayed there ourselves, we do applaud Hotel Las Mariposas, a reasonably priced B&B in a convenient location—both for its green initiatives and for leading the way by promoting its dedication to sustainability.)
As we are about to leave, he offers us a spontaneous invitation to attend a luncheon at another of his restaurants, Casa Oaxaca Café, in Colonia Reforma, an upscale neighborhood just beyond the city center. His sister manages this one. It has a graceful hacienda-style setting, complete with traditional outdoor comal on which hand-formed tortillas (from the corn grown by Chef Alejandro's family) are made to perfection, and it serves Oaxacan and other Mexican classics at breakfast, lunch and dinner. This special meal he's cooking is to introduce other local chefs and restaurateurs to organic turkey raised in a remote village nearly 3 hours away. Chef Alejandro buys nopales (cactus paddles) and foraged mushrooms from this same village, but raising turkeys is its heritage. Like many poor rural villages in Mexico, this one was hit hard by a combination of its men leaving to seek work in the U.S. (and in many cases never being heard from again) and alcoholism. Now, 17 families headed by women have formed a cooperative to revive turkey farming, using organic practices combined with ancient wisdom like giving the birds a nip of the local mezcal to relax them before slaughter. The coop's success is important to Chef Alejandro, and we happily join an appreciative gaggle of his Oaxacan peers for a fantastic multi-course meal showcasing the flavorful bird. It is even more important to other villages around Oaxaca—for if these women succeed, their efforts will serve as a model for the region.
As you may have guessed, Chef Alejandro's spirit and skill impresses us deeply. But we have yet to mention his flagship restaurant: Casa Oaxaca El Restaurante, in an elegant garden setting and rooftop patio overlooking the Church of Santo Domingo on Cinco de Mayo. Here is where you must sample Oaxaca's famous mole negro (black mole, served with the aforementioned organic turkey) and to trust the kitchen in ordering a traditionally based creation like taquitos de jícama con chapulines, cuitlacoche y quesillo (grasshoppers, corn mushroom and Oaxacan string cheese wrapped in jicama). Trust is the operative word here. We trust Chef Alejandro when he gives us this response to our question of how soon he will be even more green in his kitchen. "It is clear to me this is the direction I will take," he says. "I have to educate myself, my staff and my suppliers. A year from now we will be 80% organic."
The best of the rest
Whom else in Oaxaca do we trust for their food sourcing and overall green consciousness—and, of course, for interesting, even fantastic food? Our recommendations are these:
is the deservedly popular, art-bedecked creation of Chef Pilar Cabrera. Its cuisine is typically, deliciously Oaxacan. You'll see the promise of organic lettuces listed on the menu and you can trust that the careful sourcing goes way beyond the salad plate. We shopped with her at Mercado de la Merced, a neighborhood market near her highly recommended cooking school, La Casa de los Sabores, and saw firsthand how meticulous she is—buying from small farmers who specialize in particular things like chepiles (a local herb that grows next to corn) or impeccable squash blossoms or the small wild avocados also known as the poor man's butter. She talks with passion about the importance of buying only productos criollos that are grown organically even though they lack costly certification. Later this same week, she mentions, she's hosting breakfast for Rick Bayless, the famed norte americano chef, and some staff from his gourmet Mexican restaurants in Chicago; he wants them to experience the best Oaxacan cuisine at its place of origin.
La Biznaga is a trendier spot with a lively bar scene (a great place to do a tasting of local mezcals ). Set in a handsome outdoor courtyard at 512 Garcia Vigil just south of Santo Domingo Church, it uses organic produce "whenever possible" and calls its slightly upscale cocina mestiza "very Slow Food."
Itanoní is a simple and traditional tortillería y antojería (tortilla maker and "place of little cravings") on Belisario Dominguez in Colonia Reforma. The centerpiece of this space is the wood-fired comal where fantastic tortillas are fashioned from non-GMO criollo corn masa of heritage varieties. Yes, you can get out-of-this-world quesadillas and tacos here, but do try some of the more unusual ways in which masa dough can be shaped—tetelas (little triangles filled with beans or cheese), memelitas (masa patties topped with beans and cheese) and even cones filled with the stuffing of your choice. Go on the weekend if you'd also like to try Itanoní's outstanding tamales or the distinctly Oaxacan version of pozole (corn stew).
Xiguela is a modest café and the best health food store in Oaxaca. It's in Barrio Jalatlaco at 104 Hildalgo, a few minute's walk east from Parque Juárez. Organic products for sale in the store include fresh produce and eggs from local farms, Oaxacan cheese, artisan preserves and honey and a selection of international organic packaged foods, plus health, beauty and cleaning products. Open daily except Sunday. Two other small but sweet natural foods shops are Yasin, on Allende near Garcia Vigil, and Bambú, at 414 Margarita Maza, a block from Parque El Llano.
Finally, there's Oaxaca's best organic farmers market. For nearly 6 years, until last August, it was held at Pochote Cultural Center on Garcia Vigil in the centro histórico. Then, for reasons not made public, famed local artist Francisco Toledo, who owns this property, shut the market out. A shame. But the good news is that it's now reopened at Santo Tomas Xochimilco Church in nearby Colonia Xochimilco, every Friday and Saturday from 8:30 a.m.–3:30 p.m. We haven't yet checked out the new location, but if it's anything like the previous market, you're in for seasonal fruit and veggies certified organic by Certimex, organic mezcal and baked goods, cheeses, even cazuelas (traditional ceramic cooking bowls for soups, stews and moles) and other ceramic cooking ware fired sin plomo (lead free). Hopefully, too, you can sample an organic tamale, a smooth Oaxacan coffee or a glass of tejate (a pre-Hispanic corn and cacao beverage). Musicians should be singin' and strummin', and everyone should be having el diversíon verde grande— great green fun.