|
Kanha Roars Back
|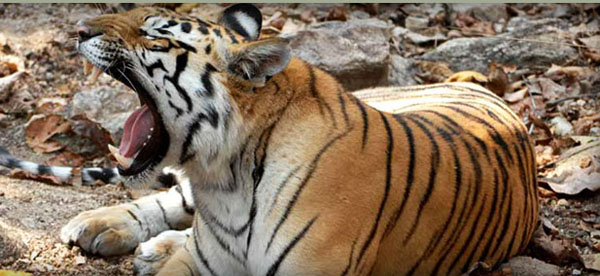 Two young Royal Bengal tigers are gorging themselves on freshly-killed chital. This is the moment I had come on safari in India for. The moment everyone comes for. I feel safe atop my massive Indian elephant. (Tigers and elephants honor an age-old truce not to mess with each other—I'm hopeful, if not entirely convinced.) Soon, we're within 15 feet. Oh, no … my line of sight is mostly obscured by bushes and by Erik, another safari guest who's sharing the same giant pachyderm. But finally, there they are. I can see my tigers … and they are practically passed out in a food coma. I had been hoping for a little more ferocity.
More than 100 years ago, author Rudyard Kipling discovered inspiration for The Jungle Book in the heart of India, in this region now partly designated as Kanha National Park—vast, teeming with tigers, leopards, cheetahs, sloth bears, gaur (Indian bison) and countless species of other fauna and flora.
That was before a century of poachers, big-game hunters and ill-conceived policies that preyed on many species to the brink of extinction. Today, however, the mighty jungle and its surviving wildlife are experiencing a renaissance, thanks in large part to international efforts to save the tigers I had come to see.
Visitor counts in this remote outpost of India have swelled into many thousands annually, from about one thousand in 1989. In the face of such demand, a nascent eco-tourism industry has emerged that attempts to match the public's growing enthusiasm with a broader environmental consciousness.
India's Taj joins with Africa's &Beyond
Taj Safaris stands out as an early leader, blending an unparalleled luxury experience with deep commitment to building the new wave of India's conservation movement.
It's a joint venture between &Beyond (one of Africa's leading safari operators and a pioneer in ecotourism) and Taj Hotels Resorts and Palaces (India's premier luxury hospitality group and participant in the internationally recognized Green Globe benchmarking and certification system). Taj Safaris has recently opened four camps in adjoining national parks in central India, including the very high-end, but low-profile eco-resort called Banjaar Tola, in 2009.
Located on the Banjar River, and nestled along the border of Kanha National Park in the state of Madhya Pradesh, Banjaar Tola's setting amid a dense forest of pipal (ficus) and sal trees—harboring woodpeckers, pheasants and kingfishers—couldn't be more enchanting. Eighteen luxurious tent-cabins are split equally into small, identical east and west encampments, each with its own lounge, dining tent and swimming pool.
After a 6-hour, air-conditioned taxi ride from Nagpur—India's orange capital and the nearest transportation hub from Mumbai—I'm welcomed by the staff's two-arms-over-the-head greeting, cold hand towels to remove a bit of souvenir grit from the drive, followed by a cool, refreshing glass of lemonade. After settling into my posh tent, I meet up with other guests for cocktails and a sumptuous dinner.
Unparalleled local knowledge
The highlights of the daily schedule here are the sunrise and late afternoon "game drives," on which we all hope to spot one of the handfuls of leopards and tigers whose territory is this section of the park. Even if we're not so lucky, other likely sightings include gaur, chital spotted deer, ruddy mongoose and dhole (wild dogs).
The spotting is made incrementally easier by the uncanny skill of our native guides, and therein lies a lesson. When the park was created in the 1950s, it was not without detractors, including thousands of local villagers forcibly relocated outside the newly delineated park boundaries. As journalist Mark Dowie examines in his 2009 book, Conservation Refugees, efforts to protect wild areas often conflict with the rights of the indigenous people living there.
… The indigenous peoples' movement and conservation organizations have a vital common goal—to protect biological diversity—and could work effectively and powerfully together to protect the planet and preserve species and ecosystem diversity. Yet for more than a hundred years, these two forces have been at odds. The result: thousands of unmanageable protected areas and native peoples reduced to poaching and trespassing on their ancestral lands or "assimilated" but permanently indentured on the lowest rungs of the economy.
In Kanha this unsustainable pattern has partially been broken. Those who oversee this priceless Indian treasure recognize that native knowledge is unparalleled, and so at least some former villagers still spend their days here, as park guides. They are known for their especially keen eyesight and ability to interpret the sounds of the wild. Otherwise we wouldn't have a clue when it comes to distinguishing between a macaque warning cry for a tiger versus that of a leopard.
The hunt for tiger
Every morning, 20 to 30 jeeps from neighboring lodges (up to a maximum of 50 at the height of the season, each carrying up to six tourists) enter the 750-square-mile park, one of India's largest. Visitors seek their glimpse of tiger in Kanha from the safety of a specially designed, open Tata safari jeep or, with some luck, close up while perched atop an elephant. Unlike safaris in Africa, jeeps in India's wildlife refuges actually do stay on the dirt roads, a somewhat surprising modicum of order in a country more often defined by its lack of enforcement of rules. While some vehicles make a bee-line for the location of the last tiger sighting, hoping to spot fresh tracks on the road or inside one of the PIPs (Paw Impression Pads)— 5' x 5' dirt squares like baseball batter's boxes, neatly groomed every day by rangers—others head straight for the park rangers' office. During mornings only, rangers set off on elephant-back to try their own luck at discovering a tiger's whereabouts. When they succeed, passengers of the first ten jeeps to have signed up that day with the rangers get the opportunity of a lifetime—to clamber aboard one of the elephants to see the tiger up-close.
Of the four game drives I went on, amazingly, we spot tigers three separate times, including that pair of big cubs in postprandial bliss. But brace yourself. As sacrilegious as it may sound, I am blown away more by the birds we see: the split-tailed greater racket-tailed drongo, changeable hawk-eagles and, most stunning of all, the blue-winged India roller with its wing undercarriage a stunning array of azure hues. Heading back to camp on the last afternoon of my visit, just when I think my game adventures are over, our tracker-guide points to a pair of massive rat snakes, entwined in a deadly territorial battle.
After so much action, returning to camp might have been a let-down, were it not for the certainty that dinner will be spectacular. Showcasing lovely produce from their organic garden and other fresh ingredients, each meal at Banjaar Tola is tailored to my dietary wishes (in my case, vegetarian), and culinary preferences. The executive chef weighs in with each guest before suggesting a set of menu options, which include creations whipped up by his team of specialists in Indian, Chinese and Continental cuisines. If you're on a diet, I recommend postponing your vacation.
Investing in a future of conservation
Importantly, the Taj Safaris folks are also investing in India's conservation movement.
They boast the nation's only private training program for naturalists, and have trained and employ India's only two female naturalists—an important start, especially given the difficulty in overcoming traditional gender biases in education and employment.
Spearheading efforts to reintroduce or relocate endangered species, Taj Safaris will relocate 50 gaur into Bandhavgarh National Park over the next three years, where declining populations have been further endangered by a declining gene pool. Already 19 gaur have been successfully relocated to the park, with one calf born there this past January.
Most impressive of all
&Beyond has also led (and financed) a team of government officials, scientists and park rangers to visit Africa to prepare for an even more-ambitious initiative—the reintroduction of the once-abundant-but-now-extinct cheetah into the wild. To accomplish this, &Beyond will pay for the initial relocation of a breeding pair of cheetah from Namibia to India.
A final observation about Taj Safaris staff.  Yes, they are professional, hospitable and flawless in execution of every detail. But what I find most extraordinarily impressive (after having known just about every level of guest experience over a year, at this point, of continuous travel) is that so many have come from little or no previous job experience. I mean, they have had nothing in prior experience that comes even remotely close to what's required by a luxury operation like this. And yet here they are, knowledgeable, enthusiastic and dignified hosts, proud of India's efforts to preserve and protect its natural wonders. Taj Safaris is clearly playing an important role in developing a new generation of conservation leaders.—Michael Straus, Contributing Editor
All photos except the tiger and nighttime tent courtesy of Erik Flamm.