|
Smoothies in Paradise
|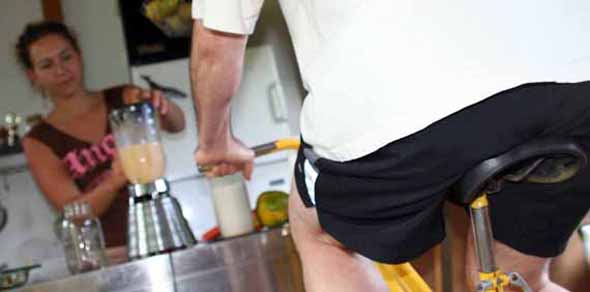 Most people venture into the ever-greener wilds past Hāna on Maui to check out the pools of Ohe'o Gulch or Charles Lindbergh's grave. We go for organic fruit smoothies whipped up in a bicycle-powered blender. Or for a cup of smooth, shade-grown coffee, brewed from biodynamic/organic beans roasted that very morning; they were dried on a trampoline in a Bucky Fuller dome with help from a solar-powered fan. (Make mine with a splash of coconut milk, please.)
You're in Kipahulu at the roadside stand of Laulima Farms, the most beautiful middle of nowhere you've ever seen. Look around. Sloping upward from the too-cute stand, this is the epitome of alive, a natural riot of food-in-the-making, flowers, butterflies, and pollinating bees. At a nearby pond, ducks make snacks of slugs and other garden pests. Because you're on the gentle haunches of Mt. Haleakalā, you're in a United Nations biosphere reserve. The good folks of Kipahulu have also declared it a GMO-free zone.
It was all guava and cane grass, recalls Josh Stearn, the farm's manager, when it was purchased by his family. Laulima means "many hands together," and that's what it took to transform these 13 acres. Most of the labor, then and now, comes from interns who trade use of their hands for the chance to live in this beautiful place. Today they're harvesting all kinds of leafy greens and tasty veggies, herbs, roots like ginger and turmeric, tropical fruits (including 8 varieties of banana), cacao, not to mention the awesome coffee. Nearby Hotel Hāna-Maui, a green oasis of a much tonier sort, buys tons of this bounty; the rest is sold at the farm.
Talking story, promoting permaculture
All power flows from solar panels, the wind, or a back-up generator that runs on veggie oil (as do the farm's vehicles and motorized equipment, including the small coffee roaster). Plantings are done permaculture style-permanent agriculture—to minimize energy use, human and otherwise. Ground cover, for instance, is the low, quickly spreading peanut plant, which need no mowing and puts lots of nitrogen back into the soil. The farm stand is a local gathering spot for talking story, checking out crafts by local artisans, and bulletin boards with flyers and newspaper articles about organic agriculture and sustainability. There are even weekly farm tours.
Let us guide you to all things green & great in the Aloha State. Download your own copy of our award-winning e-guide, Green Traveler Guides Hawaii. We sleuth out travel you'll love.