|
Meet Mr. Delicious
|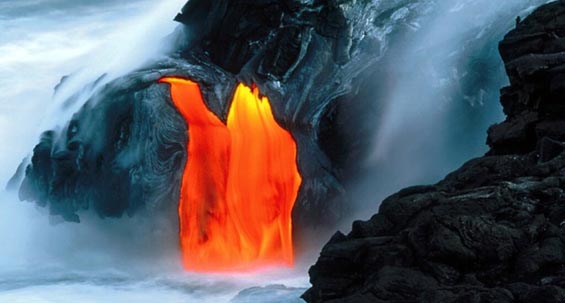 On the Big Island of Hawaii, the fiery, lava-spitting Big Kahunas of Hawaii Volcanoes National Park draw awe-struck visitors from around the world. Only a mile from the park, in mystical Volcano Village, there awaits another unstoppable force of nature. His name is Ira Ono. That's what he calls himself anyway—ono means delicious in Hawaiian. Really his name is Ira Kauffman.
As far as we're concerned, Ira can call himself anything he wants. This delicious guy is an internationally known artist, and his Volcano Garden Arts is a 1908 farmhouse-turned-gallery made of California redwood brought by ship, rail and horse-drawn wagon. The gallery's offerings range from kooky collectibles to large works of significance, including many by Ira himself (his ceramic sculpture and masks are in collections throughout this country, Europe and Japan). But what we particularly love about Ira is that he creates art—and inspire others to do the same—from throwaway items. As far back as the 1980s, he devised and performed a dance piece called "Trashface" in a massive costume built entirely from junk. Later he launched the Big Island's annual Trash Art Show, which features art and wearable fashion made of recycled materials.
"They're things that evoke emotion, they're part of the past, and they've been rescued," he says. "I've always believed inanimate objects have a life of their own, and my role as an artist has been to discover them."
Green cuisine at Cafe Ono
Pay Ira a visit and discover them for yourself at his fascinating gallery, then stroll through the manicured grounds, greenhouses and gardens, or explore one of the trails that lead from the property to upland rainforest. He also rents out a cute and cozy caretaker's cottage (check out the amazing bathroom!), and at the rear of the gallery has recently opened Café Ono, featuring "green cuisine" created from the "freshest, locally grown and organic ingredients possible"—a much-welcome addition to the generally lackluster Volcano food scene.
Let us guide you to all things green & great in the Aloha State. Download your own copy of our award-winning e-guide, Green Traveler Guides Hawaii. We don't take you anywhere we haven't been!