|
World Heritage Gem
|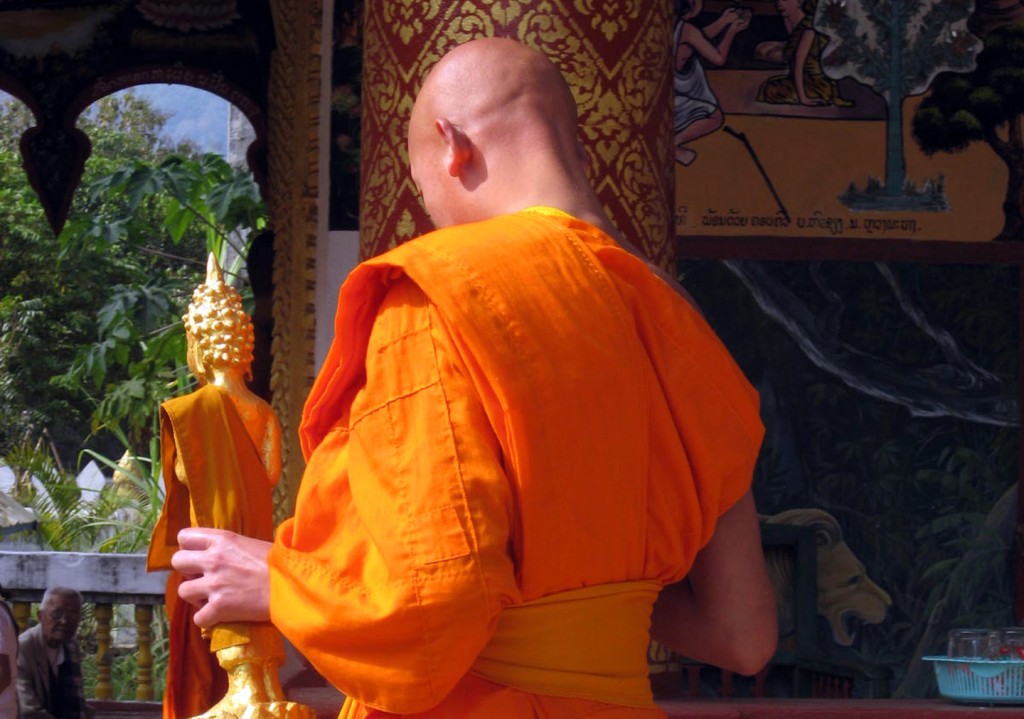 At the confluence of the Mekong and Nam Kham Rivers, Luang Prabang is among the best preserved and beautiful of the ancient cities of Southeast Asia. The U.N. named it a world heritage site in 1995. For centuries this was the royal capital of northern Laos, and French colonial rule left its mark on the architecture and cuisine: in the night market fresh baguettes are on display next to Lao rice whiskey with a small cobra biting a scorpion in each bottle.
But how green is Luang Prabang? At first glance, the answer seems to be not very. But read on. As with most things in Asia, the truth is not so simple, and beneath the surface much more waits to be sleuthed out .
"One thing you have to remember," says Caroline Gaylard, "is that a lot about Western agriculture never took hold here." From a green perspective, that's good news in a largely poor and developing country: farmers can't afford expensive chemicals to "feed" and "protect" their crops, and if rice paddies are still being plowed with water buffalo, they're fertilized naturally in the process. (Use of the "iron buffalo," nonetheless, is becoming the norm here, as it is throughout Southeastern Asia; farmers do still graze their cattle and buffalo in harvested paddies for weed control and fertilizing.) Much of the local gardening is done on the banks of the rivers, where fertilizer is not needed because the soil is enriched by the yearly cycle of the rivers' rise and fall in the rainy season.
Caroline, an Austrialian by birth, and her Lao husband, Joy Ngueamboupha, run the excellent Tamarind ("A Taste of Laos") restaurant and its cooking school in central Luang Prabang. For the restaurant, they buy from farmers at the morning market who use organic practices—"to support their efforts," in Caroline's words. At their cooking school, they source from their own organic garden. At Tamarind (as in Lao farming) what they don't use is also key. We mean MSG, toxic monosodium glutamate, which is such a staple here that it's sometimes in a shaker at the table.
When you say "no MSG, please" to most restaurant servers in Laos,  all you get back is a look of incomprehension. In the Lao language, the phrase sounds like bow (rhymes with "how") bang new-wah. The best thing to do: at a health-conscious place like Tamarind, have them write out the words in Lao characters, then show it to servers wherever you eat.
Recycling is another thicket. Water from the tap is not necessarily safe, so drinking water sold in plastic, and only occasionally in more earth-friendly glass, is ubiquitous. Yet you never see water bottles (unlike plastic bags) littering the road sides and river banks. That's because plastic bottles can be redeemed for cash—and, indeed, many poor families rely on this small extra income and become de facto professional recyclers. Conscientious restaurateurs like Caroline save their empties for needy families. What happens to the zillions of plastic bottles? "All shipped to Vietnam," she notes sadly. "We don't have facilities yet in this country to repurpose them."
By necessity, laundry is line dried, lighting is energy-efficient (dim, flourescent), and many household and building materials are natural, and thus green if sustainably harvested. Food-to-go is often wrapped in biodegradable, compostable packaging (though too often in plastic bags as well); at Tamarind your take-out order will be protected in banana leaf closed with toothpicks.
One of the very best ways to be green in Luang Prabang and all of Laos is by supporting sustainable tourism activities. Our strong recommendation: Stay Another Day Laos encourages visitors to buy local products and enjoy experiences that truly benefit local people. More than 40 such activities and businesses (including Tamarind) are available in Luang Prabang alone. Another worthy resource is The Guide to Responsible Tourism in Laos, Cambodia and Vietnam.
When in Luang Prabang …
Tamarind. Also retails many locally made gourmet items, including khai pene (delicious river seaweed dried into wafer-thin pieces and flavored with sesame and spices) and lao lao (rice whiskey) infused with organic bananas. Kounxoa Rd, across from the Wat Nong
L'Elephant. The best French restaurant in town—it also serves great Lao food—has its own organic garden; service and atmosphere can't be beat except perhaps by the most plush hotels. It's only a few doors away from Tamarind. Kaounxoa Rd at Pha Gnai Luang Muangchang Rd
Le Cafe Ban Vat Sene. L'Elephant's sister restaurant—more casual but uses the same organic garden. Sakkarine Rd, across from the primary school

Joma Bakery Cafe. Owned by Canadians, this very popular spot features "safe and clean" produce, a wide assortment of breads and baked goods and organic, fair trade Lao coffee. Chao Fa Ngum Rd, next to the post office