|
Green In Uttar Pradesh
|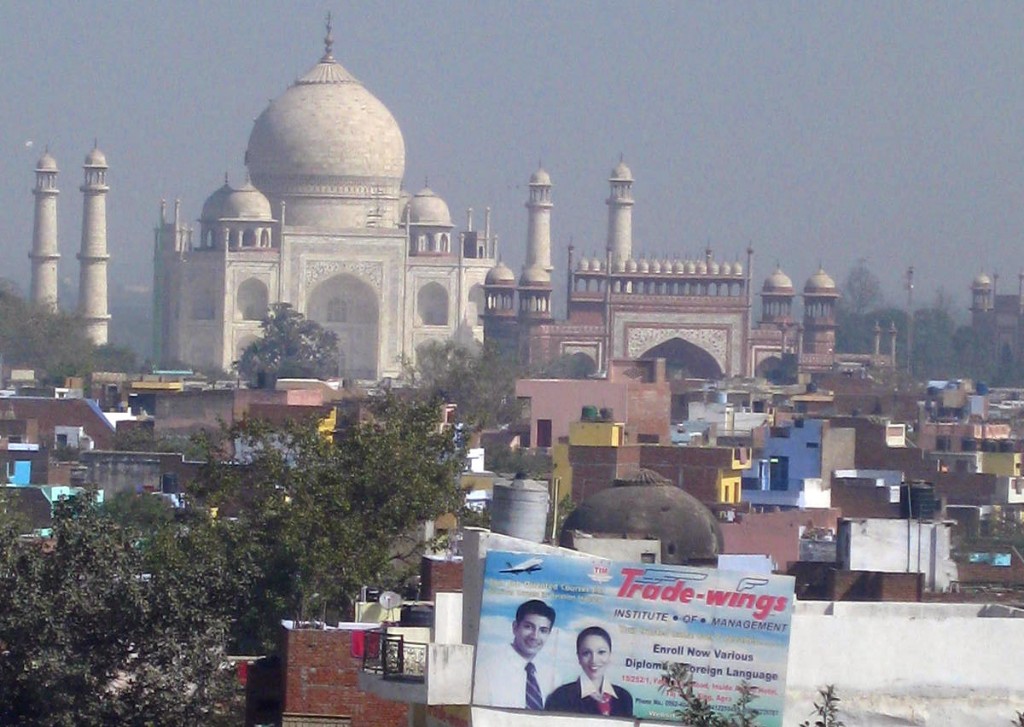 Even in one of India's most visited (and justly celebrated) places, you can't be too careful. The standard guidebooks warn of pickpockets and pushy touts who pretend to be guides. As green travel sleuths, though, we worry about the basics when we're in Agra, home to the iconic Taj Mahal. Where can we be assured of clean, healthy food (preferably local and organic)? Lodging that's both green and great?
Agra itself is a rather shabby place. Worse, it's a threat to the timeless perfection of Shah Jahan's 17th century mausoleum for his favorite wife. An estimated 20% of Agra's vehicles do now run on cleaner compressed natural gas (CNG), and the numbers have been increasing yearly. But diesel-powered and other smog-belching, petroleum-fueled vehicles, particularly on the clogged highways that edge the city, are eroding the Taj's exquisite façade. Vehicle exhaust contains sulphur dioxide, which becomes sulphuric acid in the atmosphere. Add a heavy dose of industrial pollution from factories in Agra and surrounding Uttar Pradesh state and you have a diagnosis of what has been dubbed "marble cancer." The seemingly impervious stone yellows, flakes and softens. Recent laws mandate pollution-control equipment on nearby factories (and ban new heavy industry) and bar non-clean-air vehicles close to the tomb. But the law and what actually happens can be quite different in India, and pollution remains a real threat to Agra's universally revered masterpiece of Mughal architecture. As if that weren't enough, experts are now concerned that over-diversion of the waters of the Yamuna River, which flows just below the Taj, have caused its environs to dry and compress and the Taj's minarets to subtly list; if this worsens, they say, the whole monument could topple.
So see the Taj Mahal in all its glory while you can. You won't be disappointed, no matter how many media images you've seen. And for those great green basics, we recommend going Taj to Taj.
Agra's green oasis
Within a short CNG-powered auto rickshaw ride of the Taj Mahal is the Gateway Hotel on Fatehabad Road, one of the Taj group of hotels, resorts and palaces. You may know the Taj group's well-deserved reputation for first-rate accommodations, dining and service. But did you realize all Taj properties are gaining or enhancing certification from Green Globe, the standard-setter for green hotels? The Agra Gateway has applied for bronze-level certification and already has also met rigorous ISO 18000 requirements for environmental and human safety. This hotel grows organic fruit and veggies in its own gardens and works with other purveyors to set standards of quality and hygiene. A staff microbiologist monitors the kitchen's practices (great for guests and for a nearby Mother Teresa home, which gets the best leftovers). Power outages on the local electric grid are endemic, so hotels have back-up generators. But diesel-fueled generators add to the sulphur dioxide problem (and thus so do you, unwittingly, if you stay in one of those hotels). The Agra Gateway is converting theirs to CNG. Other green measures include pest and mosquito control using only earth-friendly products. Rain is "harvested" for grounds-keeping irrigation, and waste water treated in the hotel's own plant is recycled for the same use.
On Earth Day, hotel staff give community demonstrations of green practices, including the planting and care of trees and reducing vehicle pollution. Food is donated to a local lepers' home. And Agra kids are brought to the hotel to learn about good grooming and hygiene.
Yes, you should be alert for pickpockets (though we had absolutely no problem) when you visit Agra. But guard your health and that of the magnificent old Taj Mahal too.