|
Holy But Filthy
|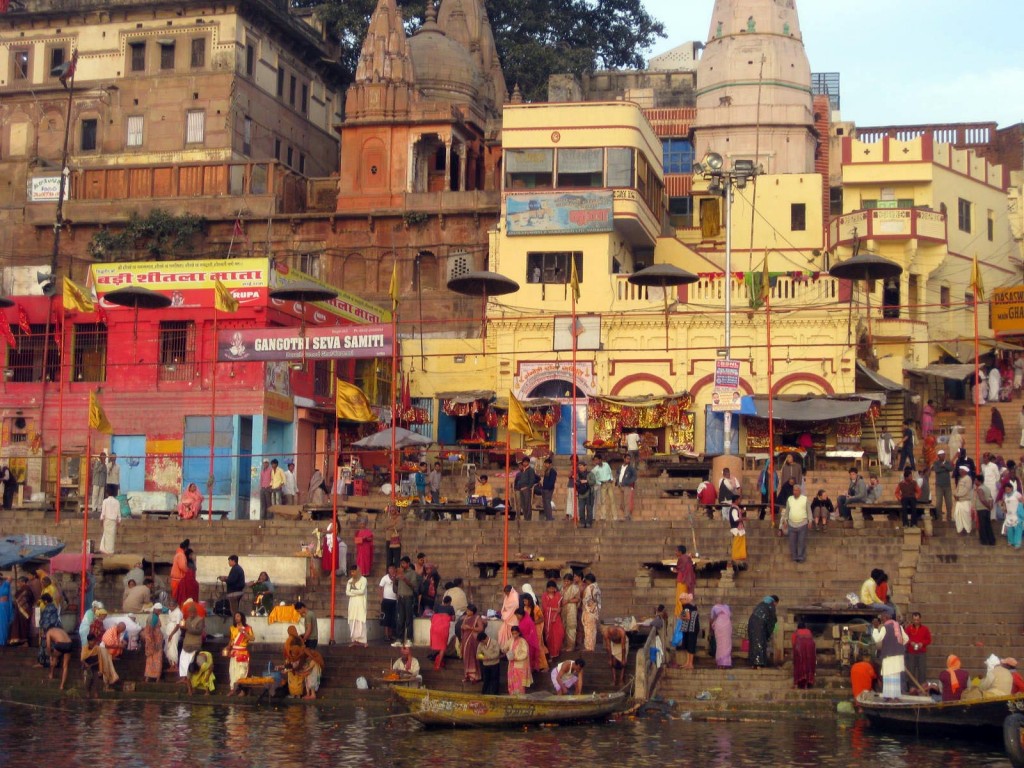 You must come to Varanasi. Here in this holiest of Hindu cities edged by the holiest of Hindu rivers, your eyes are opened to the mystical India, an unfathomable place which defies so-called rational (i.e., Western) explanation and challenges all your senses, all at the same time, almost all of the time. Pilgrims arrive at every hour from every part of India and the Hindu world. The dead and dying, the lame and the halt; the spiritually questing, the seekers. As curious onlookers, you come to witness the ancient, never-extinguished cremation fires that end with the human remains being offered to the murky brown waters of the Ganga (Ganges); it is believed that these souls are released from the reincarnation cycle into the bliss of nirvana. And to watch the Hindu faithful bathe in and even drink from these very same waters, in the belief they will be absolved of all sin—purified, cured of earthly ills by these intensely polluted waters (for which heavy industry upriver bears responsibility more than the cremations).
Our guide, a young Polish emigré and scholar of ancient Sanskrit who calls himself Yoganand and wears his blond hair long, is wrapped in a woolen cloak. He tells us the babies of Varanasi have 9 times stronger immune systems than we do. We have to believe him. It's not just along the many bathing ghats (tiers of steps that descend to the river) that we wonder how these people survive at all.
Varanasi is one of the oldest cities on earth. It looks it. The dark, meandering lanes and alleyways are 21st-century scenes of 15th-century life—furrowed men in turbans and bejewelled women in spotless saris stirring huge cauldrons of milk for yogurt, cooking in the open air over glowing embers, selling anything and everything from dark cubbyholes in the dank stone walls. Around every other corner, it seems, another small temple is draped in fresh offerings, and ahead, blithely blocking the way (or littering it … you must watch your every step in Varanasi), is yet another sacred cow. The people of Varanasi push their straw brooms around (and collect the cow dung to dry for fuel), but it's pretty much hopeless. The city is filthy. And hazardous. The greatest threats to wandering visitors in these cramped quarters, though, are the motorbikes. They careen past with less than an inch to spare. On the wider roads traffic surges in a chaotic capillary flow—bicycle and auto rickshaws, horse carts, peddlers, beggars and mongrel dogs—in which every minute vacuum of space is filled without a moment's thought or hesitation.
A green traveler's sanctuary

We doubt even the most civic-minded of this utterly unforgettable place would claim this is a green city. But you can find a green traveler's sanctuary here.
On the outskirts of the city, in an area known as the Cantonment, is the Gateway Hotel, of the Taj group of hotels, resorts and palaces. Like all Taj properties thoughout India and beyond, this one is committed to the stringent earth-friendly standards of Green Globe. It is currently working toward total certification, but already boasts many green practices, including its own organic vegetable, herb and fruit gardens, solar-heated hot water, eco-friendly waste water treatment, guest toiletries that are mainly organic and more.
Varanasi has long been renowned for its weaving arts (although, like artisans everywhere, its master loomers are threatened by cheaper, machine-loomed products). Taj overall has an excellent record of promoting traditional arts and artisans, and this Gateway works with 3 nearby villages to supply exquisite hand-loomed silk saris for staff at 10 of Taj's luxury properties. Taj has supplied these villages with water pumps and solar lighting to deal with local power outages, as well as medical help and eyeglasses and child nutrition programs. Bank accounts were opened for the weavers, so that they could be paid directly to avoid middlemen.
This Taj Gateway also has an outpost of Taj Khazana, an exclusive collection of traditional crafts and art from across India. Through a pioneering rural arts nonprofit called Paramparik Karigar, Taj helps to keep "the legacy of traditions alive when most are being lost to commercialism."
So we advise, do go to Varanasi, stay with Taj.