|
G For Giving
|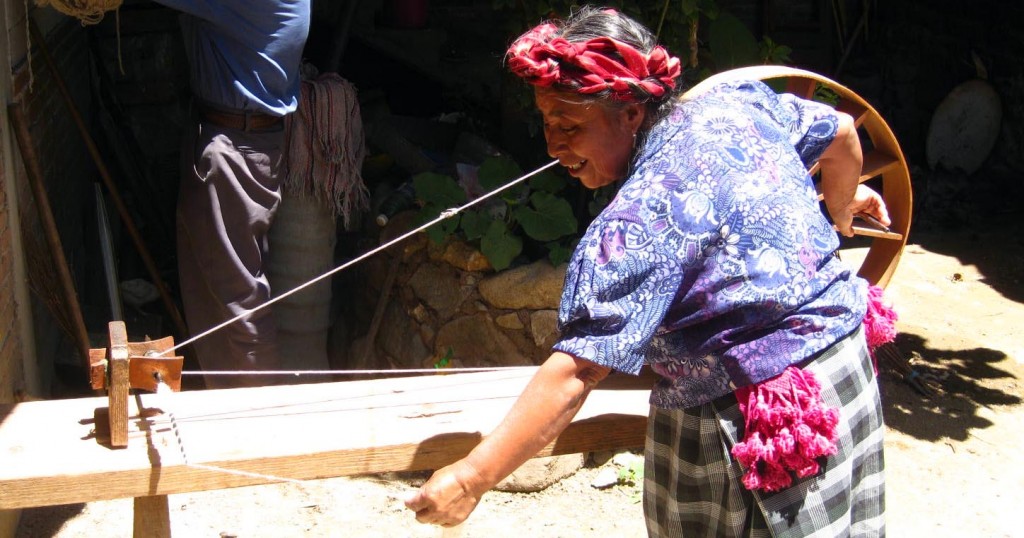 Giving back is totally, totally green. As a responsible green traveler, contributing to a more healthy future for local—especially indigenous—communities is as important as finding that great green hotel or restaurant. After all, what's more soul-satisfying than helping impoverished kids get crisp new school uniforms, or their grandparents getting their very first eye exams and a pair of brand new prescription glasses? The best green enterprises have awesome community outreach programs in place, and you can pitch in and help, or simply donate a little.
At other times, you must seek them out. So it is with the most worthy touring concept we have met in a long time—Fundación En Vía: Travel, Learn, Fight Poverty of Oaxaca, Mexico. Launched in mid-2008, it was created by Carlos Hernández Topete, an administrator at the Cultural Institute of Oaxaca (a highly regarded Spanish language school) and some of his American friends. The idea is so simple. And so powerful. It is based on the proven concept of microfinance, pioneered in Bangladesh in the 1970s (for which a Nobel Prize was awarded in 2006). Grounded in the truism that many poor people remain poor because they are shut out from credit and other financial services, microfinance has lifted countless poor people, especially women, out of poverty. En Via is also launching a range of other programs— from education to financial literacy to environmental projects and more.
Where do you come in? The tour takes you a few miles north of Oaxaca City to the picturesque village of Teotitlán del Valle, renown for its Zapotec weavers of wool rugs of bold colors and intricate patterns. Or, a half hour's drive further, to Díaz Ordaz, another Zapotec village where there is almost no tourism and far fewer economic opportunities. In either village you visit with women. They may not have much, but they want more. They're as much entrepreneurs as any geeks in a Silicon Valley start-up.
A real reality show
These ladies, they show you what they do and how they do it. You get to ask questions. All kinds of questions—what makes you think your business will succeed? Who's your competition? How much are your raw materials? And so on. Each woman, surrounded by the means of her livelihood, explains her need—a loan. A very small loan. With it, she plans to grow her business in what might seem to us a minimal way. To her it is huge. The En Via tour costs US$50 (including lunch). Every cent goes toward interest-free loans. At the end of day, you and your tour group decide which women will receive them.
This is a real reality show—and kind of an awesome responsibility when you think about it. More challenging than where to eat dinner tonight and other typical tourist stuff. But it is also fascinating … and fun.
On our tour we meet an energetic 59-year-old named Paulina Chávez Gutiérrez, a rug weaver with a 1st-grade education. Her work is beautiful. Obviously a go-getter, she wants to do more, do bigger. What's stopping her? She needs US$250 to purchase yarn, and to repair her spinning wheel. Another woman, Aurea Contreras Aguilar, is a luminous-eyed, 57-year-old tamale maker who asks for US$150. With it, she says, she will expand production. She will more buy criollo (non-GMO, heritage variety) corn, chilis, a new cooking pot and firewood. She dreams of raising her own chickens instead of buying meat—if only she can sell more tamales at the local market. Tomasa Morales Méndez is a 50-year-old widow with 3 children who completed the 5th-grade. She dyes yarn for rugs using mostly plants like indigo, minerals and even the tiny cochineal bug to create the vivid colors. She lacks funds to buy enough materials for outstanding orders and needs about US$400.
Who gets the money?
It's a damn hard choice. In all, we meet 6 women, divided into 2 groups. Our loan candidates formed these groups on their own. The group model of microfinance is one of the innovative techniques that has enabled this approach to succeed and spread. If a woman fails to repay her loan, her sister members are not eligible for future microloans. En Via loans have so far had about a 98% repayment rate. That's peer pressure for you. Maybe our banking system can learn something from this.
On the van ride back to Oaxaca, we begin to ponder which group will be loaned our tour fees. All the women are deserving. There seems no doubt about that. In our few short hours together, we feel we have been let into their lives, a remarkable thing for any travel experience. It's a privilege to have been given this intimate peek into their world, their families, homes and workshops. We want them all to succeed. But finally we make our decision—consoled by assurances from our tour leader that those who do not receive loans this time will be coached to make a better case, and will be funded after no more than 2 more tries on future tours.
Our affirmation arrives a few weeks later via e-mail. En Via sends us photos of our smiling ladies, with their newly acquired materials and a brighter future.