|
Greening in Jalisco
|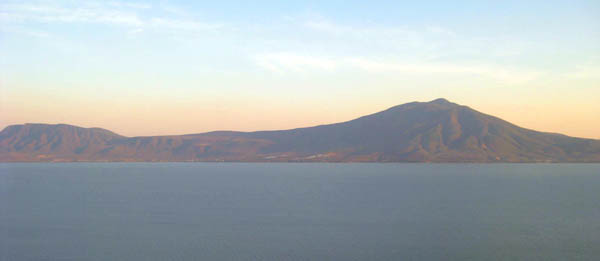 We're sitting in the afternoon shade of the dining patio in a vegetarian restaurant in Ajijic, chatting with Greg Ochs. Our topic: the state of all things green in this enchanted part of Mexico—the northern shore of Mexico's largest natural lake, Lago de Chapala. The lake is drama itself. Once part of a vast Mexican inland sea, it sits mostly in the state of Jalisco, in a semitropical rift at just over 5 thousand feet above sea level, surrounded on all but one side by gentle folds of mountains and high volcanic peaks. Since the late 1800s Chapala's been a playground for the elite of close-by Guadalajara, Mexico's 2nd-largest city. The grand homes of these aristocratic Tapitios (the nickname for those from Guadalajara) attracted even more wealthy Mexicans, including the infamous Porfirio Diaz, whose iron-fisted regime was finally toppled by the Mexican Revolution of 1910.
With the arrival in the 1940s of a remarkable woman from Mississippi, Ajijic (ah-hee-HEEK) became an international magnet for artists and writers as well. Her name was Neill James, and she came here to recover in the dry mountain air and thermal hot springs from a serious trekking accident on Volcano Paricutin, in the other state that edges the lake, Michoacan. A noted world traveler and author, she was visited by Hemingway, D.H. Lawrence (who penned the initial draft of The Plumed Serpent at lakeside), George Bernard Shaw. She painted and encouraged many talented Mexicans to do the same. She lived a full century, along the way founding Ajijic's first library, its first water purifying system and schools for local children.
Now this place attracts visitors and resident expats like Greg. Some guidebooks say that's the problem, that the 12 thousand or so expats living along the lake have made it into a Mexico Lite. It's true you can get by here with almost no Spanish, that the restaurants favor "international" fare over Mexican. But there's a positive side to this infusion of money and ideas from elsewhere. Tall and tanned, Greg talks enthusiastically about living here. You couldn't pry him out with a crowbar, he says. In a previous life, in Texas, he worked in solar power. So it is not so surprising that he started the Lake Chapala Green Group. He hosts green gatherings at the Lake Chapala Society (an expat meeting ground co-founded by Neill James and located at her former estate) with speakers on green topics, gets involved in green projects that benefit local Mexicans and is available to encourage and advise his neighbors in Ajijic and nearby towns how to get greener.
Solar power capitol of Mexico?
Greg guesses that, per capita, Ajijic may boast the largest installed base of solar electric systems in Mexico. He tells us that another Ajijic green gringo, Don Aitken (who also happens to be an  internationally renowned green architect, solar energy expert and an astrophysicist), was influential in getting Mexico to change its law to allow solar panels to "spin the meter backwards." Unfortunately, a process whereby solar-powered homes and businesses get rebates or credits from the electric utility has not followed as yet. But in this land of abundant sunshine and high electricity costs (the more you use, the higher the rate), solar still makes total sense, environmentally and economically.
Those, like Greg, who have moved to the Lake Chapala area find many ways to give back to their adopted home. Among his involvements: a demonstration Earth Bag building for a school attended mainly by kids who are Huichol, a fiercely independent and culturally rich indigenous community struggling to retain control over its autonomous lands. Another is a project that will simply but effectively filter rainwater for drinking in a village of subsistence farmers that has been without its own supply of potable water for half-a-dozen years. "I actually feel a little guilty not doing more," he confesses. "There's so much need here."
As Mexico celebrates the centennial of its Revolution, we are pleased to report that gringo imports like Greg are not alone in thinking green. Conservative Guadalajara is on the verge of emulating the more progressive Mexico City in outlawing single-use, non-recyclable plastic bags in its supermarkets, stores and markets. The Jalisco state government encourages the creation of bicycle paths—a new one that connects a subway stop with a major university in Guadalajara has been stocked with 100 bikes that can be "rented"… for free. The main highway along the north shore of Lake Chapala is also traced for much of its length with a cycle path. Groups like Ajijic Limpio (Clean Ajijic) have brought Mexicans and expats together to spur action and education about roadside trash and waste management. The 2011 Pan American Games will be held in and around Guadalajara (including Lake Chapala), a cause of much anticipation and excitement, but that hasn't stopped Mexican environmentalists from their very vocal opposition to an athletic stadium on the edge of a protected forest.
The future of Lake Chapala
Among the biggest items of local environmental concern is Lake Chapala itself—which supplies water for Mexico City, Guadalajara and 32 other cities. Shallow to begin with, its water level was severely receded a few years ago. A group called Amigos del Lago has worked for 2 decades to protect the lake and improve its water quality. Its current position is that the lake is safe for swimming and recreation but that there's not enough good data about the safety of eating its fish. Bad publicity and lack of definitive information on this issue threatens the traditional livelihood of 300 fishermen. Much of the lake's pollution flows from the Larma River, which is heavily exploited by big agriculture and dirty factories in Michoacan. Last March, Amigos del Lago hosted the International Living Lakes Conference. Its delegates issued a formal request for, among other things, the Mexican government "to improve water quality throughout the watershed," investigate sources of pollution caused by "international" and "national" industries and "to strictly apply laws which they are violating."
"I think the government is trying to do the right thing," says Greg Ochs. But like anywhere else, the politics are thorny, the special interests fierce and muy powerful. Add to these challenges the specter of cronyism and corruption that continues to plague Mexico. But the hopeful keep on hoping, working for a better day. During our stay on Lake Chapala, the 5th annual Chapala Vivo Festival tied its agenda to the June 5 commemoration of World Environment Day. A series of more than 2 dozen free cultural and educational events—organized by Amigos del Lago—include an earth-friendly products market, a workshop for neighborhood environmental groups, plus seminars and film screenings on climate change, water quality and Lake Chapala's health.
Next: Where to find green and organic in Ajijic….