|
Beach House Biodynamic
|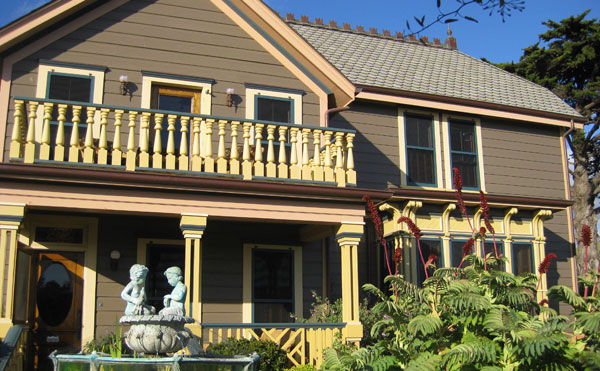 Spring rains have only recently paused on the morning we veer westward, leaving  Highway 101 and heading into the feminine undulations of the Central Coast of California. Suddenly it's vineyards, ranches and roller-coaster hills of a green so vivid against a sky so boldly blue it makes us positively giddy. "Where are we … Umbria?" we joke, euphoric over this impossibly picturesque backdrop punctuated by cascading rows of just-budding vines. We're on a mission: to scout out and savor as many organic, biodynamic and sustainably produced wines as we can—and to visit the wineries that make them—in this laid-back, less traveled wine country. But we can never pass up a good beach, either. And that's why today's journey ends as far west as we can go, at the Pacific's edge. In the classic California beach town of Cayucos … at one of the best green inns in the state, the elegant Cass House.
This is a house with tales to tell. It's hard to imagine now that it lay vacant and unloved for 20 years, until the current owners meticulously restored and opened it as a luxury inn and restaurant in 2007. Built not long after the Civil War by Captain James Cass, an Englishman who happened upon this coastal haven while hauling lumber north to San Simeon. He moved his family here. He became the town's banker, built its wharf and church, and even renamed the town after the Native American word for "canoe." His showplace home was where to "see and be seen" in tiny Cayucos.
Now it's true once again. Its five exquisitely appointed guest rooms and warmly inviting dining room are cossetted by immaculate gardens, with the wharf and beach just across sleepy Ocean Avenue. We happily settle into the Downstairs Master Room (though, in truth, we would have been just as pleased with any of the others), and enjoy ocean views at sunset from its private porch. For cool nights, the radiant floor heat is perfect. Hidden in an antique armoire is a flat-screen TV, and there's free WiFi signal. But we are more delighted by the attention to detail in the restoration of the house—even the under-sink plumbing, though thoroughly modern, is antiqued. And we are gratified to learn that only natural, non-toxic cleaning products are used, and that no chemicals are applied to the lawns and gardens.
Kitchen garden to table

Those gardens include raised veggie beds where much of the fresh produce, fussed over using biodynamic methods, is harvested daily for the superb four-course prix fixe menu served in the restaurant, Thursday through Sunday evenings. The rest comes from local, sustainable growers and producers carefully courted by Chef Jensen Lorenzen, who opened his first restaurant, a French bistro, when he was 22.
A highlight of last year for Jensen was traveling to Turin, Italy, to attend Slow Food's Terra Madre, an international celebration of  artisan food traditions. He journeyed to Italy with his wife, Grace, who serves us at our dinner with an effortless attentiveness that fully lives up to her name. Amazing Grace is a second-level certified sommelier, so by all means put yourself in her care with wine pairings to such delights as house-cured meats, black mouth chinook crudo and a remarkable local chicken served with herb bread pudding, trumpet mushrooms and garden artichoke barigoule (a stewed preparation). Save room for dessert. Pastry chef Nolan Carlisle scores when we try his "one bourbon, one scotch, one beer"—a bourbon-apple beignet, apple butter cake with scotch ice cream and vanilla bean stout pot de crème.
Other ways to savor the skill of the Cass House kitchen: the locally renowned Sunday brunch and Monday night's "3 for 25" menu—salad, main entree and dessert for only $25. All guests of the inn also get a memorable breakfast—house-made pastries, specialty egg dishes and fresh fruit from the gardens and local farmers' markets—served in the dining room or on the outdoor patio.
Trust the twins

The Cass House gardens, by the way, are lovingly tended by Grace's identical twin, Carla Wingett.
Sister Grace, as you would imagine, is a great resource for local wine tasting tips. Among her recommendations to us: Booker Vineyard, where winemaker Eric Jensen uses organic grapes to create some of the best wines coming out of the Paso Robles area; Tablas Creek, an organically farmed vineyard that's a joint venture between California's Haas family and the Perrin family of Chateau de Beaucastel in France; and L'Aventure, where French winemaker Stephen Asseo is making extraordinary Rhone blends as he transitions to being completely biodynamic in his farming.
Sounds great, we tell Grace, but do we really have to leave Cayucos and this green oasis for lodging and fine dining?