|
A Powerful Future?
|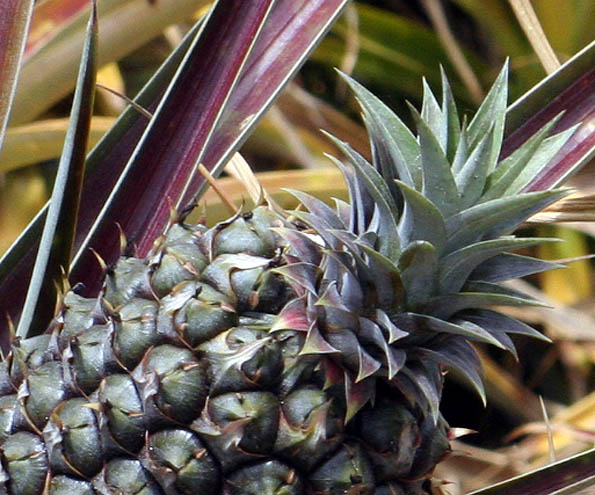 How green is Lanai? The question might better be asked, Will this tiny Hawaiian island soon become the greenest of them all? Just how, exactly, says much about Lanai's past, present and future. For this is a fiefdom. Except for a few parcels of land granted by the former Hawaiian royalty to local families, the entire island is owned by Castle & Cooke, a private concern (recently acquired by Silicon Valley billionaire Larry Ellison) that came by this real estate when it swallowed up the Dole Company of pineapple fame.
Dole, with its tainted record of labor and agricultural practices, once planted nearly every arable square foot in pineapples. Those sweet fruits are no longer commercially farmed here, but Castle & Cooke has invested millions on research and development for Lanai's next farming boom—renewable energy. The company says it's ready to commit nearly $1 billion in cash and resources to develop renewable energy projects in Hawaii.
On Lanai these include a 10-acre solar farm that could supply up to 10% of Lanai's annual electricity needs. And a 300- to 400-megawatt wind farm that would send power to Oahu via undersea cables. (The wind farm plan includes efforts to minimize potential hazards to birds, including 3 endangered species found on Lanai.) If completed as proposed,  C&C estimates, these projects could eliminate greenhouse gas emissions equivalent to 220 thousand cars per year and reduce Hawaii's oil imports by 3 million barrels per year.
Traditional hunting grounds?

Great green news, to be sure, but not universally welcome on the island. Despite C&C assurances, there are fears the company will restrict access for  subsistence game hunting, and  to cultural and archaeological sites in the project area. Some decry the visual impact of the wind turbines, saying they will detract from the rugged area's pristine views without supplying any energy to the island.
Nonetheless, you will find many green-spirited individuals when you visit Lanai—though green living requires resourcefulness, off-island shopping for earth-friendly products and a backyard organic garden.
Here are our recommendations for where to stay and dine.
Plantation era living

Dreams Come True Bed & Breakfast. This is your chance to experience life here much as it once was. Lanai City sits exactly in the center of the island, only 15 miles from Maui but seemingly  a century back in time, at least. A few blocks from tidy Dole Square is a 1925 plantation house converted to an eco-sensitive B & B by Michael and Susan Hunter. This is a neighborhood of vintage homes, many of them tiny cottages once occupied by the pineapple hands drawn by Jim Dole's ripening fruit.
The single-story house is surrounded by a very mature garden, with  flowering tropicals, avocado, mango, banana, lemon, calamansi, and much papaya. All of it is cared for organically. Sunset-watching is the perfect way to cap another tranquil day here. A large veranda at the rear affords  mountain views and has an area for grilling fresh local fish or organic veggies from the weekly farmers' market in the square. The house wears its period charm well, but it is all the better for the added Asian antiques and Italian marble bathrooms with Jacuzzi tubs, skylights and a modern kitchen available for guest use. This is also where the Hunters prepare a daily island-style breakfast using their own delicious fruit and other organic treats.
No toxic pesticides are sprayed here. Room 3 is the large master bedroom, with hardwood floors and two windows with garden views. Room 4 has a ventilating skylight.
Upcountry luxury
A much more lavish choice is nearby. At The Lodge at Koele, think high tea, cocktails on the veranda, riding stables and sporting clays. The Lodge is the "turf" to the "surf" of its sister property, the other Four Seasons down at Manele Bay (see below). Of course, C & C owns both properties, and they work in tandem to advance their earth friendliness.
At 1,600 feet above the beach, the Lodge seems more English country manor set among soaring Cook Island pines than tropical resort. Everything here is top drawer, yet its very uniqueness helps its standing as one of the best resorts in Hawaii. Where else can you also find croquet, lawn bowling, archery and mountain-biking on the activities agenda? The centerpiece: the art-filled Great Hall, with 35-foot-high beamed ceilings and massive stone fireplaces. All guest rooms have 4-poster beds and local artwork. Ask for a Plantation room, especially 275 & 276, both corner rooms with views to the reflecting pool. No chemical fertilizers are used on the top-ranked Greg Norman-designed golf course.
No matter where you stay on the island, book a table at the Lodge's elegant Dining Room. It's the perfect setting for excellent contemporary variations on timeless cuisine that relies on island organic farmers for as much as they can supply. Lanai hunters provide wild venison. Catch from local fishermen is supplemented by shipments from Oahu. Maui and the Big Island fill in with organic goat cheeses, mushrooms and more. On a cool Lanai highlands evening, ask for a table near the crackling fireplace. Rest assured that in this green kitchen, nontoxic cleaners are used, recycling is the norm, and kitchen grease goes for biofuel.
Beachfront luxury
Down near sea level, Four Seasons Lanai At Manele Bay is the other C&C showplace. All of the same green measures in practice up at the Lodge can be found here, too.  The resort's ornate décor combines European and Asian themes, to the backdrop of lushly landscaped gardens and striking views over Hulopoe Bay and the Pacific. Guest rooms average 700 square feet, all with private lanais, and even the fitness center has water views. Expect the usual Four Seasons touches. Evian spritzes and chilled towels at poolside. Welcome milk and cookies and kid-size bathrobes for your keiki (children). Teen programs such as beach parties and fishing expeditions are organized, and other kids' activities focus on the island's environmental and cultural life. The spa uses many natural products and not only offers traditional Hawaiian lomi lomi massage, but also ti-leaf wraps and seaweed body masks.
Again, we applaud the absence of chemical fertilizers on the Manele Bay's golf course, The Challenge, designed by Jack Nicklaus.
At the Manele Bay, we think the Hulopoe Court is the place to dine. It overlooks broad, sparkling Hulopoe Bay (keep an eye out for spinner dolphins or humpback whales!), and we highly recommend an outdoor table on a warm Lanai evening. Choose from specialties like opakapaka (pink snapper) with a mango sauce and Lanai greens (tender pea shoots, on our visit); or something grilled to order over kiawe (mesquite) wood.
Bev comes to Lanai
Finally, here's another very worthy green option: The Lanai City Grille at the Hotel Lanai in Lanai City. The excitement here is that the menu is now in the highly capable hands of Bev Gannon, one of the dozen originators of Hawaiian Regional Cuisine.  She's not in the kitchen here (find her at her Maui flagship restaurant, Haliimaile General Store), but her philosophy reigns supreme—fresh, local, preferably organic ingredients used in simple but creative preparations .