|
Green Travel News
|
The Heathman, a luxury hotel in Portland, has received one of the highest environmental honors in the industry. Green Seal Silver Certification sets strict environmental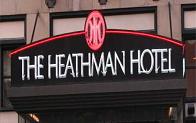 standards that properties must meet to achieve leadership levels in sustainability, including waste minimization, water and energy efficiency, hazardous substances handling and environmentally responsible purchasing. Green Seal is a nonprofit organization that uses science-based inspection tools and programs to help consumers identify and support sustainable companies.
In celebration of the certification, The Heathman has launched a Travel Oregon Forever Package, aimed to highlight the hotel's commitment to environmental awareness and its efforts to help reduce the industry's carbon footprint. With every package booked, the hotel will donate $100 to the Oregon Forever Philanthropy Fund, and for a limited time, match the donation with an additional $100.
In addition to the Green Seal Silver Certification, The Heathman was the first hotel in downtown Portland to be recognized by the Energy Trust of Oregon for its commitment to the environment, as well as the first downtown hotel to partner with Pacific Power's renewable energy program. Now, more than 30 percent of all the electricity used by Heathman guests and employees originates from carbon neutral wind energy.
Other sustainability initiatives include:
• Food composting—more than 90 percent of food waste generated by hotel guests is turned into organic matter and used in the city park flower beds.
• Green Seal certified cleaning products in all guest rooms.
• Recycled soap and shampoo is treated in a special process, then reused in city and county shelters.
• Transportation—The Heathman subsidizes Tri-Met public transportation passes for 60 percent of its employees each month and was the first hotel to support a local bicycle commuting project by donating room nights for awareness.
• Winery partnership—In all guestrooms, The Heathman offers wines from Van Duzer vineyards, an eco-friendly winery located in the Willamette Valley only 60 miles from downtown Portland.
• Recycling—more than 80 percent of the hotel's total waste volume is recycled.
• Local food—The Heathman Restaurant uses fresh, local produce and sustainably grown food whenever possible. Its chef, Philippe Boulot, is considered by many to be the grandfather of the local food movement in Portland.
"We are a city of reducers, reusers and recyclers in Portland, and I believe this is a way of life that has helped to maintain the beauty of our hotel, while also reducing our industry's carbon footprint," says Chris Erickson, general manager of the historic hotel, which dates to 1927.