|
The Resort Alternative
|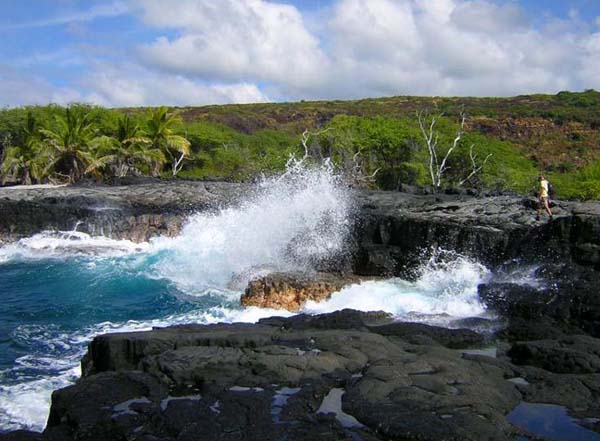 This is the Big Island of Hawaii most of us yearn for. The western, leeward side: the famous Kona Coast. Best beaches. Best weather. And how about those coffee beans? They cup such a hang-loose brew they are prized around the world. The nexus of this kind of paradise is the town of Kailua-Kona, which gets crazy busy … by Big Island standards. Northward up the coast, the lavish resorts line up one after another.
But what if it's not an in-town or resort experience you're after? Go south, green traveler.
When you arrive, you know it's clearly been worth the mini eco-trek upcountry off the coast highway near the South Kona town of Captain Cook. At the top of the rugged farm road you're 1,500 feet above Kealakekua and Honaunau Bays, and from the lanais of the Aloha Guest House the breezes are scented with these sweet, sweet tropics, the panorama is absolutely oh-wow spectacular. Nights up here cool to the 60s, ideal for peaceful dreams on plush mattresses and 1,200-thread-count sheets; or for slipping into the outdoor hot tub (chlorine free) with its "absolutely no swimwear" sign and canopy of a gazillion stars.
A pampered aerie
Your hosts, German-born Johann Timmerman, who is also trained in massage; local artist Lino Laure, whose work is sold in island galleries; and ex-physicist Greg Garriss, split the duties of ensuring your memorable stay—from preparing the organic breakfasts with fruit from the property and eggs from a farm down the road to outfitting you with snorkel gear or renting out an ocean kayak.
Amenities here are resort grade—bathrobes and slippers, HDTV/DVD in your room—and service worthy of the best small inn. This gay friendly bed-and-breakfast is equally welcoming to honeymooning straight couples and anyone seeking a pampered aerie.
We really like the motion sensors in the bathrooms and computer-controlled system in the common areas that provide energy-efficient lighting. Water is solar-heated, and drinking water filtration is via reverse osmosis. Of the 5 guest rooms, we think the Kohola Room is cozy and perfect in every detail, with amazing views and a bamboo 4-poster king bed. The Honu Room has a kitchenette (and is handicap accessible).
Mood-altering villa
Back down at sea level, the Kealakekua Bay Bed & Breakfast perches on 5 acres of park-like grounds and a permaculture garden. With sweeping views of Kealakekua Bay, this "Mediterranean-Polynesian-style villa" is a mood-altering antidote to the overdeveloped Kona to the north.  This is rural and lush coffee-growing country. Three beaches are within a walk; snorkeling and spinner dolphin-encountering are superb in the bay. Pu`uhonau O Hanaunau National Park, among the most important ancient Hawaiian cultural sites in the state, is a 5-minute drive, and so is Honaunau Bay, great for shore diving and its resident sea turtles. Along this sunny, unsullied coastline humpback whale spottings are common in winter months.
The inn itself is like a private luxury home to which you, an old friend, have been invited to relax and rejuvenate: make yourself comfortable, no need to be formal. The 2nd-floor Ali`i Master Suite gives panoramic views of the bay and pali (cliffs), and has a  private entry and lanai; the showstopper is the custom 6' x 6' private Jacuzzi (non-chlorine system) overlooking the gardens and bay. A separate Ohana Guest House comfortably sleeps 6 with its own  private yard and separate parking area and secluded lanai.
Innkeeper Emily Peacock provides guests with privacy and, at the same time, with healthy pampering—from her primarily organic breakfasts (that can include wheat-free options) to careful use of nontoxic cleaners and organic or natural toiletries. Bed linens and toiletries are organic. Many find this perfect for their wedding ceremony and honeymooning, but we recommend it to anyone seeking a green, organic base camp well situated for exploring the Kona and Kohala coasts and beyond.
Up on the organic farm
Or  how about staying in green comfort on a certified organic Kona coffee farm? Kona Rainforest Farms is half-a-mile up the flanks of Moana Loa, 45 minutes south of Kailua-Kona and slightly more than an hour to Hawaii Volcanoes National Park. Here all power comes from the sun and water from the skies. Savor the farm's only crop—the sole Kona coffee chosen by Iron Chef  Morimoto to serve at his new Oahu restaurant—as you watch the antics of a gaggle of domestic geese (in charge of weed control and organic fertilizer) and the workings of this 41-acre enterprise. The fruit of some 3 thousand coffee trees is grown, picked, dried and roasted right here. In the midst of all these beans is a newly built 2-bedroom, 1-bath guesthouse with a full kitchen. Like the rest of the farm, it is completely solar powered. Nontoxic cleaners and biodegradable laundry detergent (the laundry is available to guests) are used. Water comes from a rain catchment system, processed through 5 stages of filtration. Robert and Dawn Barnes, the farm's proprietors, are most welcoming; they'll be happy to show you how their coffee, which has also been poured at the White House, comes to be. Of course your fully equipped kitchen features a coffee grinder and French press coffeemaker to do justice to your complimentary supply of beans. To start your day, organic granola and fruits pair perfectly with the award-winning brew.
Guests at this farm actively participate in the conservation necessary for off-the-grid living. As the Barnes put it, "We have all the water and power we need, but none to waste."