|
Greening on Railey
|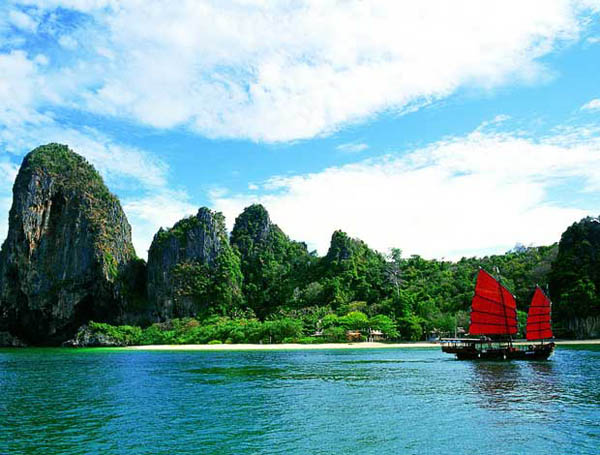 What first peaks my curiosity is the large, full-color sign along the paved walkway at the base of the magnificent limestone cliffs between East and West Railey Beaches. Three looming photo images of pristine environment—rock climbing, snorkeling, beaches—with a message entitled "Co-creating for Survival" and a description of efforts to create a local sustainable tourism development project.
This is my welcome to Rayavadee—Railey Beach's only 5-star resort. Rayavadee's setting on the edge of a national marine park on stunning Phranang Peninsula near Krabi, Thailand, blends lush foliage, limestone cliffs, 3 beaches and the clear, green waters of the Andaman Sea. The resort's award-winning architecture and tropical landscapes over 26 acres of coconut palms are said to take inspiration from a southern Thai village, but the Thai royal family would feel completely at home here.
Veerasak Sibunruang is the newly promoted general manager, one of only a handful of Thai nationals to hold such a senior management position (they're usually reserved for hospitality industry expats). During our conversation, I begin to appreciate anew both the positive role that business can play in protecting the environment, as well as the necessity of environmental stewardship being locally based.
Railey Beach has long been a paradise for rock climbing enthusiasts, especially. But its popularity, Sibunruang tells me, has come at a cost. In the past decade or so the strains of tourism-oriented facilities have become increasingly clear, especially with regards to litter and garbage disposal, fresh water supplies and noise pollution. During peak tourism season, countless passenger boats powered by polluting, Harley-Davidson-loud (and illegal) diesel truck engines crowd the otherwise pristine shores, and during low tides they anchor off-shore, often damaging the coral reef. Underground fresh water springs are being tapped by hotels (without any permitting required), and seasonal shortages have recently been experienced for the first time.
For all these reasons and more, Rayavadee stands alone as an emerging showcase for environmental stewardship and activism. While Sibunruang is quick to point out that this is not a perfect 'green' resort, Rayavadee has incorporated an environmental ethic from its inception 15 years ago. The on-site water treatment facility reclaims water for landscaping. Glass and plastic bottle recycling is the norm, and the resort pays to ship garbage to a mainland landfill rather than burning its trash as do many neighboring resorts. Rayavadee has also spearheaded an effort to construct a centralized, environmentally-designed boat dock and pier for the entire community, and is organizing community clean-up days along the beaches. It's currently researching options for replacing boat engines on the resort's private fleet with more fuel efficient, less noisy alternatives. Food waste and landscaping clippings are composted. On the labor front, even during the slow season (when occupancy can be as low as 10%), the resort maintains full-employment for its 400-some employees.
Though the Railey community did, some years prior, agree to ban motorized water sports such as jet-skis, it would be a stretch to say there's a local environmental movement. With 95% of the workforce commuting an hour by boat from Krabi, there are barely any locally-based residents with a sense of ownership of the community. There is, however, a growing awareness that the region's long-term economic viability is entirely dependent on its ability to maintain environmental quality.
With Sibunruang at the helm, it seems to me that Rayavadee is well-positioned to provide much of the vision and infrastructure necessarily to support a broader-based green movement. Admittedly, the price of admission at his luxury resort is steep, with stylish, 2-story suites—in a tropical decor of polished wood, vibrant fabrics and hand-crafted details, as well as an outdoor terrace—starting at just under US$600 a night in low season (this does includes private transportation transfers to and from their airport via land and sea, plus breakfasts). But if you're looking to be pampered by Railey Beach's leading green-thinking resort, Rayavadee is absolutely the place for you.—Michael Straus