|
Greening in Atotonilquillo
|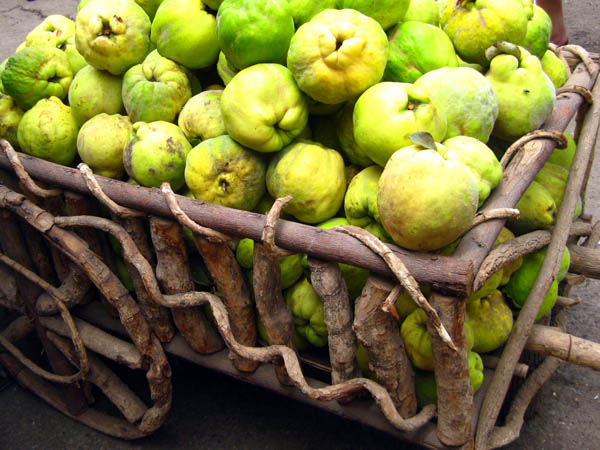 And now for some good news from Mexico…again this year, the annual harvest celebration in a farming pueblo near Jalisco's Lake Chapala is coming off without a hitch. Here in the town plaza the crowds are happy and well fed, the most wizened abuelas to the youngest niños. The vendors are handing out samples and selling their wares nonstop. The "best of show" judging is highly competitive, as usual. The continuous music—mariachi to Mex rock—is loud and spirited. This is why, despite its overly publicized problems, we still love this country and its resilient people.
We are in Atotonilquillo, where only days ago, during a downpour in the middle of the night, an arroyo overflowed its banks and sent residents fleeing from their beds. But today it is sunny and everyone is smiling. This is the celebration of the yearly bounty of the nearby orchards…in the form of a fruit little understood in the U.S. but much beloved here. El membrillo. The quince. Grown organically and naturally, in soil and temperatures that even allow them to be eaten raw. With a quince grown in northern California, this would pucker your mouth like biting into the sourest green apple you can imagine. But here, squeeze on a little limon, a sprinkling of salt and chili powder, and you've got a snack fit for Carlos Slim.
The quince (Cydonia oblonga) is a small deciduous tree native to southwest Asia and the Mediterranean, a member of the rose family and a close relative to apples and pears. In fact, it looks like the ugly stepchild of an apple and a pear. Quince orchards were first seen here during the Colonial era, planted at the behest of Franciscan friars. Its tart, pale flesh turns golden when cooked. It is said to lower cholesterol levels, improve digestion and speed weight loss.
Thoroughly Mexican
On this day membrillo is thoroughly Mexican in its manifestations. Quince tamales, sweet and steamy. Quince paletas and nieves (popsicles and sorbets), cold and refreshing. Quince micheladas (chili powder and quince with beer ) and the cordial muy fuerte called ponche. Quince pies, tarts, galletas (cookies). Jellied fruit paste called cajeta or ate in solid blocks or prettied up with decorative molds, sliced fruit in heavy syrup known as conserva and martajada, like a chunky marmalade.
It's all good, for this is a day for families and fiesta and all that is joyous about life. ¡Viva membrillo!