|
A Mendo Wowie
|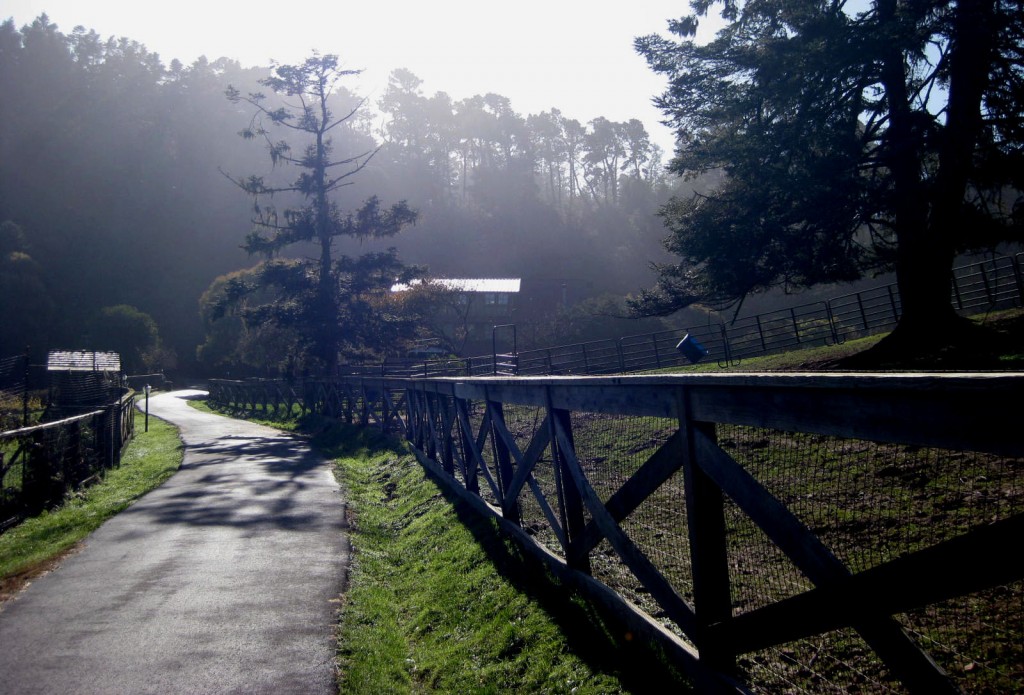 There's no mistaking the green of Mendocino. We don't mean the color, of course, though the moods of this Northern California coastline transform ordinary chlorophyll into a pulsating emerald-on-acid. No, we mean our kind of green. And fellow green travelers, here in Mendo you just let out a big sigh of gratitude. You have found a home away from home. Within historic Mendocino village itself, an impeccable huddle of salt-weathered clapboard and fog-loving flora on a Pacific bluff, the tree-hugging '60s never left— except for the price of real estate. (Are we exaggerating? Stop in at our favorite "refueling station" on Ukiah Street called Corners Of The Mouth. It's a workers' collective in a recycled church.) Then there's the surrounding county of the same name. Mendocino County was first in the U.S. to ban genetically modified organisms (GMOs). It's here you will also find the oldest purposely organic vineyards in the country, at Lolonis Winery. And at another noteworthy location just south of the village … Stanford Inn By The Sea.
The Stanford is a pioneer of sustainability among North American inns. From its origins in 1985, this  eco-lodge and retreat center has tried to do right by its guests and the planet. And—take note, please—it has succeeded in a way that honors both.
It occupies 10 green acres at the edge of Big River State Park. A family operation, the inn is the baby of Jeff and Joan Stanford, which accounts for the homey vibe. A welcoming place for families and their pets (they supply bowls for food and water, litter bags, an organic treat, covers to protect furniture and bedding). No corporate confectionery cheer here—staff is genuinely warm, welcoming. It also accounts for the deeply held conviction that underpins every aspect of the operation. They don't just say this stuff, they live it.
Blissful views, comfortably luxurious
Accommodations, from single rooms to suites, are "comfortably luxurious yet outdoorsy." Decks have blissful views to the ocean or forest. Eco-amenities include the one we wish were universal: good organic coffee with the in-room coffeemaker. Daily afternoon tea and dessert sampling is complimentary for overnight guests, as is an excellent, made-to-order breakfast at Raven's, their award-winning vegetarian/vegan restaurant.
At breakfast, Raven's is vegetarian, with organic eggs and dairy an option (nonetheless, we couldn't resist the signature Stanford Citrus Polenta of grilled polenta topped with braised garden greens and a cashew "cream"). At dinnertime, Raven's turns completely vegan. Deliciously, deftly so. "It is our goal to 'seduce' those often suspicious of vegetarian/vegan cuisine," proclaims the Raven's menu. It seduces often. This is fine dining, prepared from the Stanford's certified organic gardens and other local organic farms. A new executive chef, Kyle Evans, has kept old favorites like Sea Palm Strudel of locally harvested sea palm baked in sesame phyllo, even as he puts his own stamp on things. Anyone on a gluten-free diet will find many interesting choices here.
Other options at the Stanford include renting a locally designed and constructed redwood canoe for a Big River paddle, or a mountain bike to tackle Mendocino's trails. The inn's own Mendocino Center For Well Being has offered massage and yoga since the early 1990s, and now also features classes in tai chi, art and nature experiences, and treatments using acupuncture, acupressure, Chinese herbs and Indian ayurveda. Or you can just wander the organic gardens, admire the pet llamas, stroll down to the river or nearby beach, browse the quite impressive selection of environment-, health- and food-related books, as well as gifts and organic foodstuffs for sale in the main lodge.
Good things are happening
You may meet Jeff Stanford, a man of intellectual curiosity and passionately held viewpoints. He is among those who think that living green must inevitably lead to a diet without meat. In an article he wrote for the inn's newsletter titled "From Vegetarian to Vegan: Animals, Our Health, " he chronicles his own journey to veganism, and gives "20 reasons why you might, too!!" Among these is the well documented and high environmental cost associated with the production of meat.
Regardless of your own beliefs, be assured that, during your stay, good things are happening around you. Composting of all food and organic wastes, for use in the gardens and landscaping. Energy conservation in heating, lighting, laundry. Green cleaning and recycling. Biofueled (recycled veggie oil) vehicles. Local artists are encouraged to display and sell their works here, community gatherings and local non-profits are hosted at no charge, and local students are hired as restaurant servers (and come as interns from New York's Natural Gourmet Cookery School and Le Cordon Bleu's culinary schools).
At the Stanford, they call what they do "conscious tourism." Which they define as looking at every aspect of inn operations "with an eye on reducing impacts on the environment and providing the healthiest context possible for guests, diners, staff and the surrounding community." For this, for their quarter century (and counting) of sustainability, we make the Stanford Inn our choice whenever we are fortunate enough to be in mellow Mendo.