|
Wine Country Green
|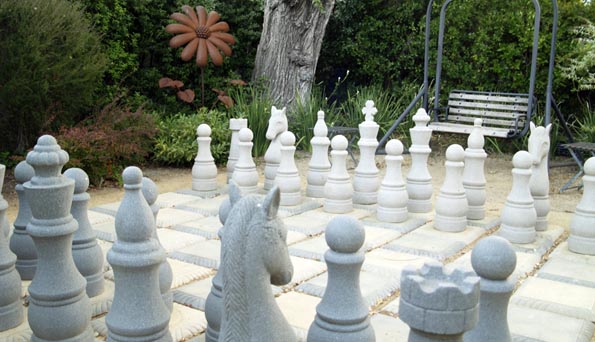 When we arrive, the U.S. Green Building Council is finishing up a meeting in the barn. In a few days  a big dinner will be hosted here to celebrate Sonoma as America's first Slow City. A Who's Who of this part of California Wine Country will be in attendance, happy that their home (which its bored teenagers  have long dissed as "Slow-noma") is being singled out for its sustainability and the unhurried pace of a country village radiating from its historic town square. We wish we could linger for that, but we have a date tonight with Sharon Stone.
Sort of.
We've just checked into MacArthur Place, Sonoma's historic country inn and spa a few blocks from the square. An independently-owned slow haven of beautifully tended gardens, majestic old trees and 19th-century architecture. And we're being escorted through the property by genial Bill Blum, the general manager, who's filling us in on MacArthur's greenness (for which it has been lauded by the Sonoma Valley Green Business Program). "We don't make a big deal about it," he says. "It's just the right thing to do."
Like the help they gave to restoration of Natheson Creek that edges MacArthur Place's 7 acres. It's a natural preserve for wildlife such as the peregrine falcons that prey on his coi pond, Bill says with a shrug.
Historic and lush
For generations the property was a working ranch and home to the family of the founder of a local bank. The historic barn we've just toured now hosts meetings and wedding receptions and houses Saddles, a popular steakhouse that also follows the Monterey Bay Aquarium's guidelines for sustainable seafood and does other green things, from composting to eco-efficient kitchen equipment to recycling fry oil for biofuel.
We stroll past the stately original ranch house, one of Sonoma's oldest homes, built in the mid-1800s using wooden pegs and square nails and still framed by the same white picket fence. It now houses guest accommodations. We wander along boxwood hedges more than a century old, past mini-sculpture gardens where Bill plans to plant organic vegetable beds. He points out the trees prized by the kitchen for their organic fruit—apricot, plum, figs, persimmon, apple. Next we see the spa and its organic botanical garden whose herbs become body scrubs. The solar-heated pool. And the cozy library cottage, where wine and cheese are served to guests each afternoon. The country estate-like grounds are lush, though no landscaping chemicals are used anywhere.
Sharon, are you here?
Finally we arrive at the Jasmine Cottage. This will be where we will sleep. This is where Sharon Stone slept. And where, Bill mentions offhandedly, her then-husband (San Francisco Chronicle's Phil Bronstein) once asked that the 2-person spa tub be filled with champagne. Wouldn't that anger one's tender parts? No matter. We are here, and we are loving the sweet romance of it. The walls inside are a restful mustard and the 4-poster bed is cushy and piled with pillows, the comfortable furnishings are wine country style, and an eco-log in the fireplace is waiting to create mood. A copy of best-selling The Green Book rests discretely on the coffee table.
Ahhhh, we think. This is really (green) living. Sharon isn't here. But we are.
Elsewhere in slow Sonoma …
The Italy-based Cittaslow (Slow City, associated with the international Slow Food movement) honored Sonoma, among other reasons, because it promotes renewable energy and friendliness to pedestrians and bicycles. It boasts the 5th-highest number of solar-powered homes per capita in the state, a pair of weekly farmers' markets, and a goal of putting edible gardens in every schoolyard (with the harvest going to the school menu and neighborhood families).
Our other "slow" recommendations:
Organic wineries and olive oil producers. MacArthur Place lists several on its website. Ask the front desk for passes for free tastings.
Cafe La Haye, on East Napa Street just off Sonoma Square. A tiny place with a toy kitchen that is consistently rated among Sonoma's best. Chef Jeffrey Lloyd (formerly executive chef of San Francisco's top-rated Michael Mina and Aqua) prepares simple and simply delightful food from local organic and sustainable sources.
South American Secrets on the square. This is something special. A nonprofit that retails amazing handmade textiles, art and accessories from artists in South and Central America, at affordable prices. According to a Sonoma newspaper article, local founder Fred Johnson and his Ecuadorian-born wife, Janneth—after paying fair wages to the artists and covering operating costs—donate all proceeds to African-Ecuadorian students pursuing graduate and undergraduate studies. (One student is researching local river pollution, which could aid in the fight against logging companies that have exploited many regions in Ecuador.) The Johnsons work with Ecuadorian universities and NGOs—including one in the U.S.—to ensure the money gets to its intended beneficiaries, who live in river villages so remote it's a 6-hour canoe trip to the nearest bus stop.