|On The Beach |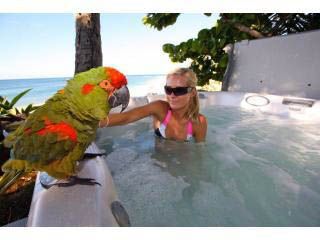 Could there be a cooler shade of green? Lodging with a leading Oahu environmentalist who lives where Hawaii's Green Sea turtles do…which also happens to be one of the North Shore's most famous surf spots.
The Turtle Lady, she's often called. But you could just as easily call her The Beach Clean-up Lady. Either of these nicknames adds up to the same thing: Marlu West is a true Oahu green hero, and a pioneer in the fight to preserve the beautiful North Shore. Now in her 60s, she still swims with her dogs whenever conditions allow—off Chuns Reef, where she lives and operates this B&B. She even scoops up debris during her swims. These beautiful seas are world-famous for 2 things: dare-devil surfers and sea turtles. Marlu is president of the nonprofit group Save the Sea Turtles International, which she founded in 1988. It's dedicated to educating people, primarily children, about the turtles' plight. She thinks of her years of work on behalf of these gentle reptiles (all 7 sea turtle species are protected by the Endangered Species Act of 1973) as karmic payback. Her father ran a turtle farm, and she grew up eating turtle eggs and meat and seeing the hides sold for leather goods. These days the Hawaiian green sea turtle is making a comeback, but still she worries about them. "They are the canary in the sea," she says, "a wake-up call for humanity." Sea turtles can live to be 70, but they take up to 30 years to reproduce, she notes. "People see so many of them and think they're OK now, but these turtles are all juveniles."
Marine debris is a leading cause of injury and death to turtles and other sea life worldwide. She organizes monthly beach clean-ups on the North Shore. Volunteers not only collect plastics and other junk, they categorize it—in continuation of a marine debris monitoring project by the U.S. Environmental Protection Agency and the Center for Marine Conservation. The data gained gives researchers a better understanding of Hawaiian trends in land and marine litter.
You'll know Marlu's Chun's Reef beachfront estate, built as the Laniakea Train Station in 1800s, by her roadside sign seeking volunteers for beach cleanups.

Chuns Reef, between Sunset Beach and Haleiwa town, lies directly in front of the house. The gentle turtles share the reef with multi-hued fish, and the snorkeling is excellent. So are the reef's 7 famous surf breaks. You can give them a go by borrowing one of Marlu's "green surfboards" that require no polluting wax and won't break up even with severe poundings. The antique-filled accommodations at Marlu's are clean, comfortable, and very North Shore—no pretension, no worries. Breakfast comes with local organic fruit and other local organic sourcing. If you want to DIY, all 3 units come with kitchenettes or a full kitchen, and there's an outdoor BBQ to share.
Marlu cleans with vinegar and other natural products, and lovingly tends the delicate orchids in each suite. Outside, the grounds are kept pest-free by a patrolling goose.
Only natural pest control is used inside. The public bus stops just outside the estate. Ask for the upstairs suite, with its wooden ceilings, stained glass windows, and lanai overlooking the reef. Access to the white-sand beach is through a private gate.