|
Greening in Cambodia
|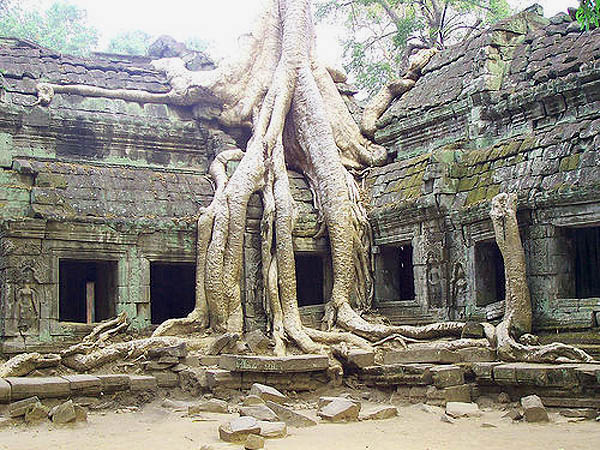 When I last visited Cambodia, in 1995, the country was devastated from years of unspeakably brutal civil war and armed regional conflicts. The magnificent architectural ruins at Angkor Wat, a UN World Heritage site, had only recently reopened to the public. These ancient temples ensnared by the jungle's tendrils, often referred to as the Eighth Wonder of the World, were undergoing a new wave of protection and restoration.
At the time, Siem Reap, a sleepy town adjacent to Angkor Wat, was also in the grip of post-war agony, economic hardship and the persistent threat of landmine explosions. To this day, an estimated 3–4 million mines remain interred across the countryside, their impacts still bloody and horrific.
Today, Siem Reap has become a bustling mini-metropolis of 120 thousand citizens, with an economy deeply tied to the thriving tourism industry centered around Angkor Wat. Countless restaurants, bars and cafés have popped up to cater to the tourists and backpackers, as well as to the growing community of expats and foreign NGO (Non-Governmental charitable Organizations) employees.
A place of peace
Siem Reap is certainly deserving of its peace and prosperity. But has a renewed sense of higher purpose arisen, too, and where can it be found? I submit that your best starting point is Peace Café, on Street 26, on the east shore of the Siem Reap River.
Nestled in a tranquil, tropical tree-shaded courtyard, Peace Café is a welcome sight, a refuge from the heat, traffic and aggressive taxi drivers just a couple of blocks away at the Old Market, the heart of the old city.
Started in 2009 by Aussie expats Maureen and Tom Caen, PC (many guide books still have it listed under its old name, Singing Tree) is indeed a café (and an excellent one at that), but the progressive vision goes much deeper and broader, providing Siem Reap with its only resource for integrated living.
Sustainable, Fair Trade
The vision is to be a "sustainable social enterprise." Eco training is provided for Khmer people as well as workshops in permaculture gardening techniques. Other of the many (and often free) activities include yoga and meditation, pilates, tarot readings, cooking classes, Khmer language.
There's also a gift shop specializing in locally-made Fair Trade products, ensuring that more profits return to the artisans and their communities.
The café also works very closely with a number of NGOs, providing free resources and classes for Siem Reap's most needy—such as providing space for free dance classes for the young children at Green Gecko, an orphanage/safe house which helps kids whose parents are mired in drug addiction, poverty and domestic violence. Other organizations in their network include The Global Child, Cambodia House for Children for Peace, and Living Values, an international program that teaches children (and their teachers) about universal values, now run here by local citizens after the international sponsors ran out of funding.
Organic and vegetarian
Oh, then there's the food. Sorry … it's so easy to get jazzed about the good work going on here that what this place can do for a green traveler's appetite almost seems beside the point. Good news is, it needn't be. Food's great! Food's healthy! Food's ridiculously cheap (US$1.50–$4 a dish)! Some 80% of all produce is sourced from local farmers who commit to organic practices, and organic spices are grown on-site. The eclectic menu—100% vegetarian, with many vegan options—includes traditional Khmer, Thai and western, a dazzling selection of juices, smoothies and shakes, even an espresso bar. Breakfast standouts: muesli, scrambled tofu, waffles, fruit salad, and a personal fav, an eggplant dip called Fu Chi. Lunch/dinner: for non-Asian fare, try the panini and variety of veggie burgers including roast pepper with hummus. I love the amok (traditional Khmer light curry cooked in saffron), the fresh seasonal greens. Also, the Japanese sushi, tempura and miso soup. There's an excellent selection of house-baked cakes and cookies. Brown rice is served. Purified water is used to wash all produce, dishes and for making ice.
After checking in to your hotel or guesthouse, make Peace Café your first stop. Peruse the information board for brochures and posters from many environmental and social development organizations, eco-friendly tours and volunteer opportunities. Last stop of any day is good, too (the café is open daily, 7am–9 pm), if only to meditate on your day's excursion into the vast, rich history of Angkor Wat.—Michael Straus