|
Red Is Green
|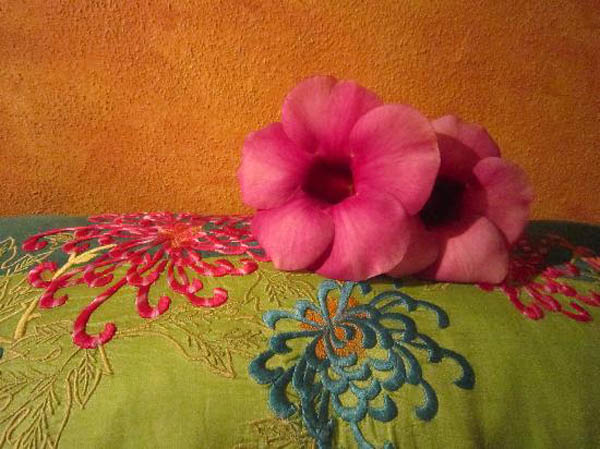 Over and over, when we mention we are off to the Riviera Nayarit, we hear, "Oh, Sayulita! The coolest Mexican beach town. You gotta check it out." And we do. And we aren't the only ones. Even in sultry late June, at the start of the muggy, wet summer season, Sayulita is humming along, its cafes and arty shops surprisingly busy with gringos wanting to sun and surf and kick back without the "hassle" of Puerto Vallarta just to the south. We notice recycling containers in a few places around the town plaza, and Don Pedro's, Sayulita's hands-down best restaurant, offers organic salad greens and a tasty organic porkchop (from Ojai, California!), as well as its el primo beachfront location. 
Nice enough, we think. A fun little surfer town with un poquito green. But then we discover Mexico's San Francisco. That's really its name—San Francisco—and it's only a few miles north, the next coastal pueblo. Around here everyone calls it San Pancho (just as famed Mexican revolutionary Francisco Villa was known as Pancho). And quickly we see that, when it comes to catching the green wave, Sayulita is sooooo yesterday.
On first sight, as we explore its pretty cobblestoned streets and see by its galleries and shops and homes that there is contentment and money here, we have no idea of San Pancho's history.
A president's escape
San Pancho has been a town only since this place captured the imagination of a president of Mexico, Luis Echeverría. In the 1970s Echeverría thwap-thwap-thwapped in by helicopter to escape the pressures of Mexico City politics.  He sipped coffee with fishermen and farmers. Charmed, he built a beachfront palacio here. Then he had the idea of creating a self-sufficient model village. Workers were awarded land and a home for laying the cobblestone, the plumbing and electrical systems. A church and plaza, schools and a hospital followed. Echeverría ended up fleeing his country to avoid prosecution for the killings of student demonstrators in 1968 and 1971. San Pancho got by on mango processing until tourists and expats began showing up in the 1990s.
Today we are similarly charmed. We smile appreciatively at signs proclaiming the pueblo's clean beach program—0n nearby Nayarit beaches, sadly, such is not the case. But we positively beam when we see other signs with arrows pointing the way to Hotel Cielo Rojo … Bistro Organico.
Hotel Cielo Rojo (Red Sky) is a simple but stylish place done in mellow Mexican colors accented with natural curios like sculptural driftwood and whale bone as well as indigenous crafts collected by the owners on their own world journeys. Sunset Magazine predicts this lovely boutique hotel will fan your flames for a romantic weekend. We certainly won't argue with that, but must add that what really turns us on is the hotel's green (non-toxic) cleaning, recycling program, housemade natural hand soaps and active support for superb community programs like entreAmigos (Among Friends), a non-profit for the children of San Pancho. (Only a few blocks away, entreAmigo's new 16 thousand-sq.-ft. facility houses a library, computers, classrooms, a gallery and recycling center; stop by the gallery store for art and crafts made from recycled materials by a woman's collective called Trabajarte and the Recicla San Pancho Project.)
Nayarit's organic restaurant
On arrival at Cielo Rojo, if you so desire, have a shot of artisanal tequila from the hospitality tray—try the hotel's own private label. Enjoy complimentary breakfast in the palm-shaded courtyard with its rock waterfall-fed Jacuzzi edged by culinary herbs. For lunch and dinner, this same space becomes what surely must rank among the best restaurants in the state of Nayarit—and, as far as we know, its only organic one. This is Bistro Organico. It has an open kitchen, but not anything like those the fancy chefs perform in up in the other San Francisco. With the most basic of tools, Chef Juan Diego Bernal turns out delicious, beautifully plated dishes like a smoked marlin-stuffed poblano pepper on a sesame-studded black bean sauce and a pescado del dia (a thick and juicy fillet of Pacific pargo, or porgy, when we dined) wrapped in hoja santa (Mexican pepper leaf). Salads like ensalada de toronja y miel (grapefruit, avocado and mixed greens in a cumin-yogurt-honey dressing). It's all part of the fun to watch Diego sneak out by the Jacuzzi to twist off a sprig of basil or mint. His fish is harvested by local fishermen in small boats. Grains, rice, flours and almost everything else are organic. Bread and yogurt are made en casa. May we recommend you start with a Margarita Roja, made with the hotel's own jamaica (hibiscus) syrup? And finish with a decadent dessert such as a triple-layer cake of chocolate, mango and carrot? 
Ah, this is the green life in Nayarit
…. Can you tell we like San Pancho? We do. And we plan to be back.