|
Toward Planet 2.0
|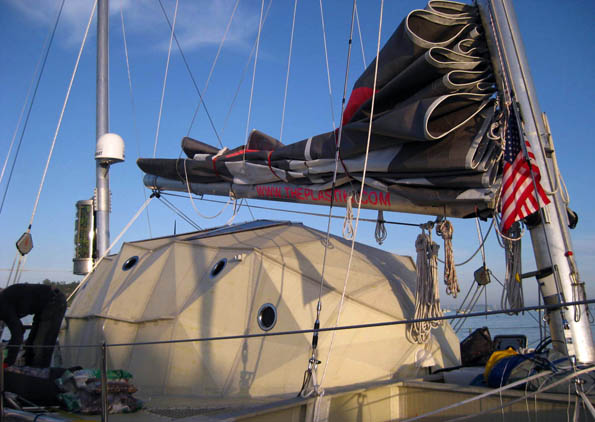 Update: The Plastiki got underway on March 20, 2010. You can follow her progress on Twitter: @DRExplore.

We happen upon her as the sun is nearly tucking behind the hills across the bay. All we intend is to toast this perfect Sausalito spring day with chilled glasses of gewurz, but we are irresistibly drawn to her. She is abuzz with activity. The pier where she is tied is strewn with boxes of foodstuffs and other goods to be handed aboard. Young, fit-looking people are  milling about busily. A guy is drilling. A woman with a fancy video camera is filming.

This is the Plastiki, a truly unique 60-foot catamaran made entirely of recycled and sustainable materials, afloat on 12 thousand plastic bottles. She and her crew aim to risk their lives on the world's largest ocean to raise our awareness of the mess we've made of our seas—and how we can rethink using our throw-aways, principally plastic, to transform waste into valuable resources.
No wonder things are a little chaotic. The Plastiki Expedition on this evening is but days away from getting under sail. Then this slightly ungainly looking craft—the likes of which no one has ever sailed before—will bound through the Golden Gate. The plan is to cross the Pacific through the now-infamous Eastern Pacific Garbage Patch, that flotsam of plastic junk twice the size of Texas. From there, the voyage itinerary includes Hawaii, Midway, Bikini Atoll, Gilbert Islands, Tuvalu, Fiji and, finally, Sydney. In all, 12 thousand nautical miles. Scientists aboard from the Scripps Research Institute will study ocean acidification, marine debris, overfishing and coral bleaching.
"We're your stowaways," we joke with a tall, good-looking guy with shoulder- length hair who tells us he's from London. This is David de Rothschild, the 31-year-old expedition leader and heir to the storied European Rothschild banking family. Under the auspices of his Adventure Ecology, he's hunted down toxic waste dumps in the Ecuadorian rainforest and traveled to the North Pole to see climate change firsthand. He launched the Plastiki project nearly 4 years ago after reading a United Nations report outlining the downward-spiraling state of the world's oceans.
The voyage, and the name he chose for it, was also inspired by Thor Heyerdahl's epic 1947 expedition, the Kon-Tiki, in which the Norwegian ethnographer/adventurer crossed the Pacific in a primitive raft. Olav Heyerdahl, grandson of Thor, is a crew member as well as the official diver aboard the Plastiki.
The masts are post-consumer aluminum, the glue holding the whole thing together is engineered from sugar and cashew nuts. Other progressive features:  a "biodigestible" composting toilet, a hanging vegetable garden, and wind, solar and stationary bicycle-based energy systems.
The expedition's engaging website states that its goal is to  "captivate, activate and educate the world that waste is fundamentally inefficient design.
With more efficient design and a smarter understanding of how we use materials, principally plastic, waste can be transformed into a valuable resource, in turn helping to lessen our plastic fingerprints on the world's oceans …  in order to undertake a new 'Planet 2.0' way of thinking and acting."
We raise our glasses to the Plastiki and her crew—green heroes, one and all.