|
Time Forgot Isle
|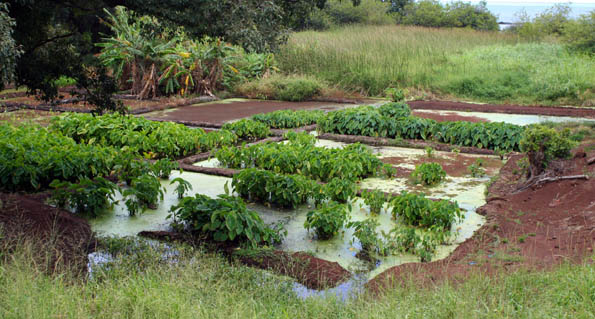 Molokai's best hope for a green future lies in its steadfast desire to be left alone. It calls itself Hawaii's most natural island. And, amazingly, it does still offer the distinctly non-21st century pleasures of no traffic and no traffic lights.
Even though bustling Maui is but 8 miles away, Maui-style development has never been welcome here.
So where do you bunk down on this island that time forgot? Where do you find organic and green to eat? Read on, green traveler, read on….
Private beach protected by the reef
Right on a pristine beach with glorious views of Maui, Lanai, and Kahoolawe, Hale Pukoo is upscale "Tahitian-style" living on the lush and leafy east end of Molokai. The recently constructed, galvanized-roofed main house has rattan ceilings, bamboo cabinetry, and hideaway doors that disappear to welcome the refreshing trade winds and tropical outdoors. The nearby "cook house" features an open dining, living, and kitchen area with 2 large decks. A "sleep house" has a master bedroom and a child's room linked by a shared bath. In all, Hale Pukoo accommodates up to 4 adults plus 2 children.
For those needing more room, or for rental separately, there's also an ocean-view cottage with two bedrooms, an indoor bath and outdoor shower, open kitchen, dining and living area. Sea grass matting and slate cover the floors, and the ceilings are finished in raffia. With the beach only 200 yards away across the lawn, it's perfect for a couple or small family. The reef provides protection from ocean swells here, making it fun and safe for young and old to swim and snorkel.
The innkeeper can arrange to have organic fruit and vegetables delivered from a neighbor. You are encouraged to recycle. Cleaning and grounds-keeping are totally eco-friendly.
Old Time Hawaii, and organic
Puu O Hoku (hill of stars) is a certified organic farm and ranch of a vast 14-thousand acres even further east, near the remotest corner of Molokai. It's a good hour to Kaunakakai town, but who cares? This stunningly beautiful area has been called the Bora Bora of Hawaii. Here they grow papayas, bananas, awa (kava kava), and lots of veggies, as well as raise organic, grass-fed beef. Their lands are managed for sustainability and conservation; no chemicals have been used on the ranch for more than two decades. In fact, Puu O Hoku is going past organic—it's being converted to biodynamic practices.
Accommodations are two country cottages and a lodge built in the 1930s by Paul Fagan, the original owner of Hotel Hana-Maui, as a hunting retreat. The atmospheric lodge, which rents only in its entirety, is the Old Time Hawaii you've been dreaming of for that reunion, wedding, or other gathering. It boasts 11 sleeping rooms, 9 bathrooms, a restaurant-grade kitchen, and a great room with a massive lava rock fireplace, all-natural wood walls, and beamed ceiling. Just outside is a pool (also for cottage guests unless the lodge is occupied). Nearby is the simple Sunrise Cottage, which we favor for its tranquil views of manicured lawn, gardens, grazing livestock, and even Maui. The Grove Cottage, with 4 bedrooms and 3 baths, is closer to the ocean and ranch operations.
Buy your organic produce, fruit, and beef (if available) directly from the ranch; a small ranch store stocks other items.
Do-it-yourself green cuisine
Otherwise, Molokai has few dining options, and, alas, green dining (using local and organic ingredients) has not found a roost we can crow about. We strongly recommend booking an accommodation with a kitchen—like the pair we mention here— and buying local fruit and produce at organic farm stands on the east end, and everything else at Outpost Natural Foods in Kaunakakai. Local organic farmers deliver fresh harvests throughout the week—the justly famous Molokai purple potatoes, papayas, bananas, herbs, leafy greens and more—and there is a surprisingly good selection of natural and organic products shipped in. This small but mighty oasis is also your hands-down best option for healthy—and yummy— vegetarian specials at its lunch window. It offers fresh organic salads, burritos, tempeh sandwiches, tofu-spinach lasagna, and the like. The Outpost, at 70 Makena Place, is open every day but Saturday from 10 a.m. to 3 p.m.
Every Saturday from about 7 a.m. to noon there is a small farmers and crafters market in front of the two banks on Ala Malama Street in Kaunakakai.  And whenever you're in Kaunakakai, keep an eye out for farmers or fishermen peddling from their pickups parked along Ala Malama.