|
Greening in Guangxi
|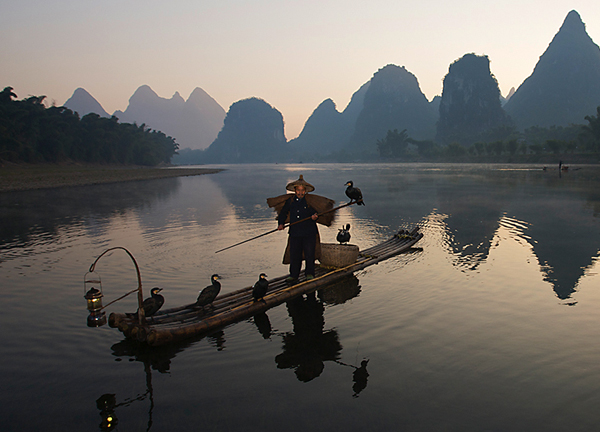 If there's one thing I love more than entrepreneurs, it's entrepreneurs with life-changing epiphanies! Chris Barclay, an American expat living in China since the early 1990s, is just such an entrepreneur, with just such epiphanies. His award-winning Yangshuo Mountain Retreat and Yangshuo Village Inn, nestled in the stunning karsts of Guangxi Province in southern China, were born from those ah-ha! moments. And they serve as guiding lights for his leadership in environmentally and socially conscious business in China.
When Guangxi was "discovered" as a backpacker destination in the early 1990s, it was a sleepy backwater, latticed by pristine rivers and idyllic, rice-terraced villages. Tourism came slowly at first, with literally only a handful of intrepid visitors each day. Times have certainly changed. Today, bustling Yangshuo Town remains charming despite its rapid development of hundreds of cafés, bars, restaurants and hotels that cater to multitudes of tourists, including weekenders from Hong Kong and westerners wanting world-class mountain climbing and spelunking.
Barclay's Retreat and Inn are both in quieter settings, and closer to the area's major attractions than Yangshuo Town itself. The Retreat is set off a peaceful side road on 1.5 acres along the Yulong (Dragon) River. It's ideally suited for traveling families and business retreats, as their facilities are somewhat larger—though even traveling solo I have absolutely no desire to leave. In the mornings I'd join in the tai qi (tai chi) classes, and swim in the afternoon. Kayaking, river rafting and hiking are other alluring options. At the Inn, nestled in small Moon Hill Village, I stay in the newly renovated barn (the Farmhouse), which is by far the most tasteful former-animal lodging I've ever laid my head down in—and I've slept in quite a few! At both locations, staff are warm and helpful, the rooms attractive and comfortable.
From prince to frog
Chris Barclay had been living a dream—a wildly successful consultancy serving some of the world's most powerful multinationals, marrying and working with his soul mate, leading a powerful U.S. business lobby, even meeting with President Clinton. But then his life took a sharp detour. "The more successful our business, the unhappier I became," he wrote in his e-book autobiography, The Frog in the Well. "I began to feel trapped. I felt that the bigger we grew, the more enslaved I was by my own success." When Chris' wife left, her companionship was replaced with drinking at neighborhood bars. "I was self-destructing … ensnared by a job I no longer loved, in a place I no longer loved, with people I no longer loved. My negativity had cost me my marriage, my relationships with staff, and worse, my health—I was 30 pounds heavier…. I sacrificed all of these things for the sole reward of justifying how unfair life was treating me. I knew I had to find a way out." And indeed he did, thanks to a wise old man he met (coincidentally?) in a small Chinese village, an even older Taoist fable, and the unquenchable optimism of a young girl suffering from a rare, crippling disease. Intrigued? Or maybe you, too, feel stuck in your own career. Locked up in your own version of a Chinese prison? Sinking into your personal pit of despair? Well, then, Chris Barclay's autobiography recounting the years and epiphanies leading up to the creation of Yangshuo Mountain Retreat is just what the doctor ordered. Funny, engaging and inspiring, this e-book is a quick read, free and online at Barclay's blog, UnboundedLife.—MS
Each property has a restaurant. The Retreat's focus is on Yangshuo cuisine (there's also a tea shop where you can learn the traditional Chinese tea ceremony). The Inn's Luna restaurant offers mostly Italian fare plus jiaozi, traditional Chinese dumplings, and its outdoor Tea Garden has light snacks and tea.
In one key respect, thankfully, the Retreat and Inn are the same. They are the only properties in the region to implement a deep and comprehensive list of environmental initiatives. For example:  no plastic bottles—all guestrooms are supplied with drinking and hot water flasks; no disposable products of any kind—even shampoo and bath gel bottles are refillable ceramic works of art; solar hot water; furniture is handmade from locally sustainable bamboo; vegetables and herbs for the restaurants are grown organically on the properties; all food waste is recycled for animal feed and non-food waste is recycled; non-toxic cleaning agents are used throughout.
I was even more impressed by Barclay's constant pursuit of innovation–from developing organic-based alternative fuel sources (to replace coal) and creating schools and medical organizations, to providing services to the region's virtually forgotten disabled children. He is tightly bound to the local community—nearly 100% of his employees are from local farming families—and he pays them fair wages. Most support their extended families with these salaries. A full-time tutor is on staff to teach them English, and they all have medical insurance and pension programs (virtually unheard of in the region), as well as profit sharing. I was equally impressed by Barclay's financial transparency, his willingness to share his challenges, and deft persistence in working with local officials.
Model for Chinese tourism
I left with the strong belief that the Chinese tourism industry can learn much that is valuable and important from Barclay's sustainable innovation and leadership. When you go, be sure to take a few minutes to talk with Little Fish, Barclay's business partner; Angel (the source of his inspiration and a key team member) and Ronald, a Dutch expat on the management team with extensive experience as a tour guide in southern and western China who also sings '60s and '70s covers at a cool little bar in town.—Michael Straus