|
5-Star Green
|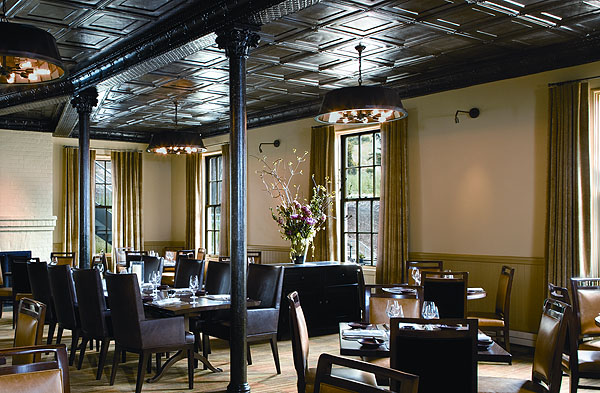 Let us now praise Murray Circle. Even in one of America's food meccas, the San Francisco Bay Area, it's a unique and extraordinary green dining experience.
What do you look for in that special restaurant? Here's what we think, in order of importance: 1) Great food ("Is this better than we can make at home but may be inspired to try? Are there oh-wows in the food pairings, preparation and presentation?"). 2) Great sourcing ("Is what's on our plate absolutely fresh, seasonal and at the peak of flavor? That is to say, is it local, organic, sustainable?"). 3) Great value ("Do we get our money's worth?"). 4) Great service ("Warm and genuine? Attentive and knowledgable about the menu?"). 5) Great drink ("Can we learn while we sip? A fun new cocktail or nonalcoholic beverage, a beer or wine discovery, most especially from a small producer who uses biodynamic, organic or sustainable practices?"). 6) Great atmosphere ("Do we feel good just being here?").
On every single point, Murray Circle gets our thumbs up. Let's take them in order.
The deal at Murray Circle
Great food. It's the only Michelin-starred restaurant in Marin County ( just across the Golden Gate from San Francisco). In mid-2011, new chef Justin Everett arrived from Sonoma's El Dorado Kitchen, where he cultivated relationships with local farmers and created a regionally inspired menu that featured approachable seasonal cuisine. With numerous awards and recognition under his belt, including Best Chef of Napa/Sonoma for 2009 and 2010, he is known for his handcrafted charcuterie and whole-animal cooking.
Great sourcing. This is local, organic artisan food. The menu credits the Marin organic farm where the green garlic comes from that becomes the luscious vichyssoise, which Marin rancher supplies the rabbit that's paired with organic prosciutto and favas, even the local fisherman who hooked the Pacific cod.
Great value. We don't mean cheap. We don't mind paying the price if the experience is worth it. Murray Circle is quite affordable for the quality it offers. At dinner, fish and shellfish mains are under US$20, meat and poultry mains are under US$30. For lunch, you can get a 4-course tasting menu (which includes dessert) for $25.
GTG Tips
On a budget? Experience the deliciously creative, organic goodness of Murray Circle's kitchen by ordering a small plate at the adjoining Farley Bar. From organic popcorn dusted with truffle or chili-lime (US$5) to an oyster po'boy (US$9) to pork rilettes with housemade chicharrones (US$10). Or grab and go with a ready-made salad or sandwich in the Cavallo Point Mercantile.
Best breakfast in Marin: Start your day at Murray Circle, 7 a.m.–10 a.m. Only the finest ingredients and the kitchen's deft touch make these eggs benedict with house-cured ham and a freshly baked biscuit a total classic. And on weekends there's an amazing brunch, 11:30 a.m.–2:30 p.m.
Great service. In the several times we've dined here, service has always been right on the mark. If anything it's too efficient. At breakfast, we asked for the cream and sugar to be removed because we don't use it in our coffee. It was, but other staff noticed they were missing and tried twice to replace them.
Great drink. In the wine cellar, the focus is on small producers who use green practices. Wine director Dan O'Brien knows most of them personally. From the bar, try the fennel sour (house-infused fennel vodka, citrus, egg white) or a no-liquor tide turner (fresh pineapple juice, lime, pomegranate grenadine, egg white, basil).
Great atmosphere. Murray Circle's got it. In spades. Where else can you dine in the former enlisted men's barracks of a historic military post, with its beautifully restored tin ceilings, fine art photography and trio of toasty fireplaces? Or outside, on the historic porch, with its panoramic views of San Francisco and the Golden Gate Bridge? This restaurant is part of LEED Gold-certified Cavallo Point Lodge in Fort Baker, the country's newest luxury accommodation in a national park.
Photos: Murray Circle by David Wakely