|
A Greensome Threesome
|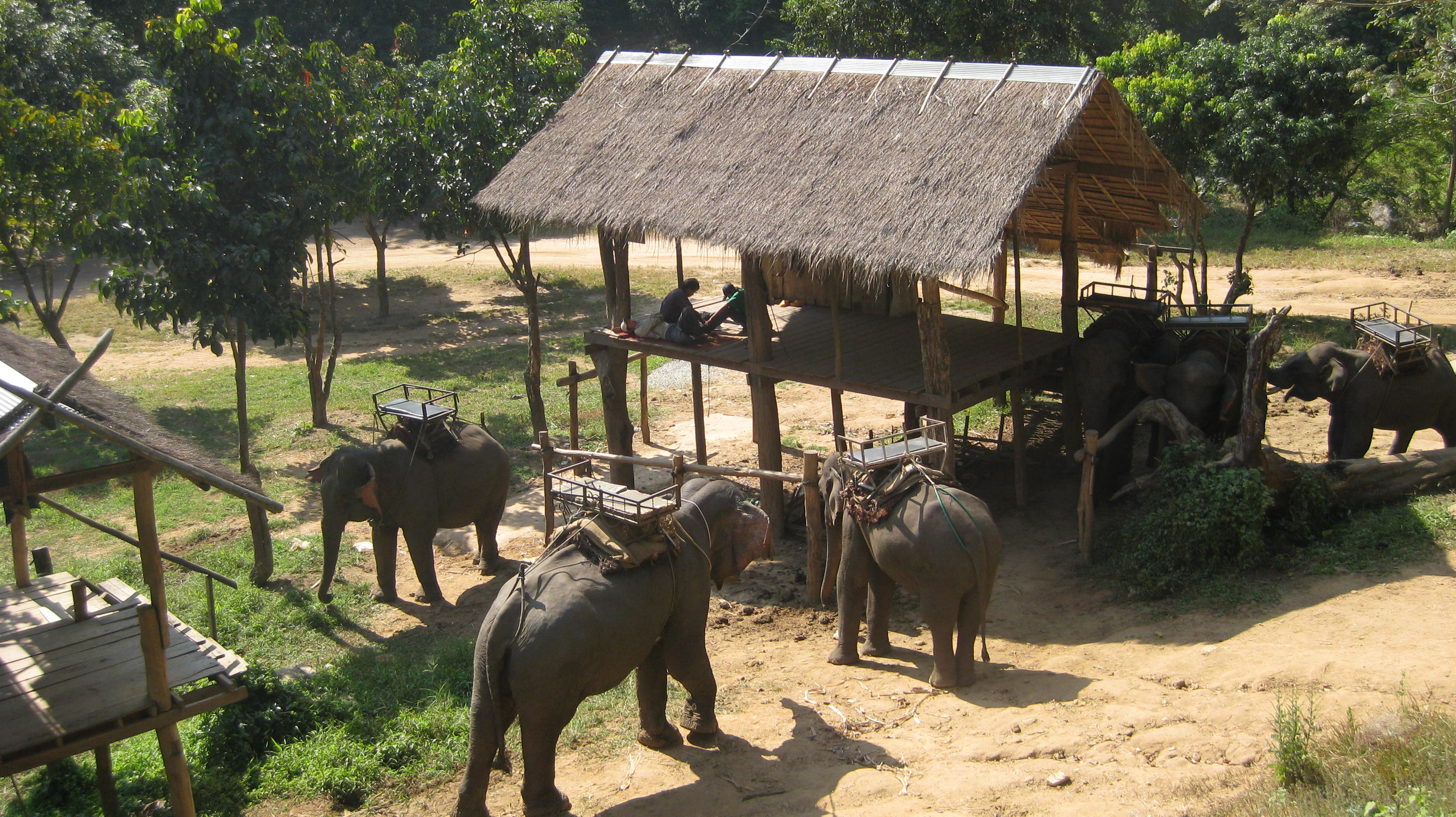 We'll say it again: for green travel to thrive, it must be great travel. Slapping the word green or eco on a brochure ain't nearly enough. High standards plus high integrity—now, that's the winning formula.
In northern Thailand, an eco-lodge operator called Asian Oasis has got it right. Two of its excellent properties are situated in peaceful valleys north of the city of Chiang Mai. And its newest, and perhaps most exciting, awaits near the Thailand-Laos border crossing (and embarkation point for Luang Prabang via the Mekong River) in Chiang Rai province .
Lisu Lodge. A cluster of 4 large dwelling houses of bamboo and other natural and recycled materials in the style of a tribal people originally from the mountains of Tibet, Lisu Lodge is an award-winning reflection of the neighboring Lisu village from which it draws inspiration and staff. Each dwelling has its open-air terrace flanked by small sleeping rooms (updated for Western-style private bathrooms but, blessedly, not for phone, internet or television); in the Lisu way, they are spacious; as a lodge guest you'll be served all meals and do your lazing here. Don't expect 5-star amenities; do expect comfort and eager, welcoming staff in their Lisu dress.
Lighting is energy-efficient; hot water for showering is solar heated. Soap and shampoo are provided in dispensers, not individual plastic containers, and drinking water is in recyclable glass bottles. Bicycles for guest use have handy charts that calculate the carbon emissions "saved" by your pedal power.
We save our share on a scenic ride through rolling countryside (is that really a cobra that rice farmer displays as we pass—yes!) culminating at a humanely-run elephant camp. After a pachyderm ride up and down a narrow riverside path (with banana begging the whole way), we paddle an inflatable raft to a delicious al fresco lunch. Adding to the fun is our guide, a 63-year-old wonder named "Charley" Chan, who dreams of visiting Graceland and sings American pop tunes amid the river rapids. As at all Asian Oasis properties, these activities and all meals are part of the package. You can chose our "soft adventure," a visit with the shaman at the Lisu village, or more challenging treks into the mountains. (Lisu also hosts a yearly Earth-Care Camp, a hands-on nature and environment experience for kids aged 11–16.) It's the kind of place where your head hits the pillow, gratefully, by 9 o'clock, which is just as well because our wake-up call at our next Asian Oasis venue is at half past five….
 Travels with 'Charley' Chan
Khum Lanna Lodge. Khum means house, and Lanna is the former kingdom of northern Thailand (as well as parts of present-day Laos and Myanmar). The morning after our arrival at this lodge, it's back on the bicycle for a pedal to a fascinating local market that opens at 4:30 a.m. and is over before most of us have brushed our teeth. Here's the place to stock up on water buffalo steaks, local tobacco, and barbecued bat. Along the way we stop to see the charcoal works, a family-run business that still produces fuel for cook fires in mud kilns, a 10-day process.
Khum Lanna is an idealized traditional teak pole house of the region, and is a step up in luxury. It has a lovely open-air dining pavillion and a well-run cooking school with individual wok stations for guests. Its handsome guest rooms boast energy-efficient lighting, on-demand hot water heating; ours overlooks a peaceful stream where rice farmers bring their water buffalo to wallow in cool brown water. Activities include many of the same as at Lisu Lodge, plus cooking and vegetable carving classes. We also enjoy a tour of the lodge's organic fruit, veggie and root garden.
Lanjia Lodge. On arrival, as at all Asian Oasis lodges, you are greeted at Lanjia ("peaceful" in the Hmong language) by staff in traditional dress, who offer sweet lemongrass tea. Then you enter through a bamboo gate and wend your way down a path, past newly planted organic row crops and fruit trees, and steps of split bamboo, to your stilt lodging house. The view literally steals your breath away. This brand-new (open only a month when we visit) eco-lodge is perched on a ridge line, high above hill tribe villages, a valley of rice paddies, and, yes, there it is—the storied Mekong River. On the far shore lies Laos.
Each of 4 dwelling lodges has a shared balcony terrace for meals and reveling in the sightsand sounds of crowing roosters and laughing children. Simple sleeping rooms also have double windows to the views, colorful hilltribe bedspreads, and walls and flooring of woven bamboo; private baths have tiled showers and clean, modern fixtures. Earth-friendly features are similar to the other Asian Oasis lodges, as are the hearty, delicious meals created in hilltribe style using pesticide-fee produce from its own garden and local markets.
The king's garden
In addition to employing hilltribe villagers as staff, Asian Oasis contributes to the schools and cultural efforts of the villages near its properties. At Lanjia, though, its involvement is even greater. The lodge is a joint venture with Thailand's largest non-governmental agency, Population & Community Development (PDA), which works to support and preserve indigenous cultures in the country. The property on which the lodge is built is owned by the Hmong and Lahu villagers who live just outside its front gate. Guests are shown a video about the hilltribe peoples of Thailand narrated by the highly respected curator of a hilltribe museum in Chiang Rai and another about the threatened ecology of the Mekong and its 750 species of fish (many, like the giant Mekong catfish that can weigh hundreds of pounds, are seriously depleted).
Tours of these Hmong and Lahu villages are dignified and intimate. This is the real deal. There's very little you can buy as a souvenir, but a great deal you can take home in your mind and heart. Try your hand at Hmong batik making. Visit with a Hmong and Lahu shaman. Watch villagers still shy and unaccustomed to visitors—but easily returning your smiles—go about their daily lives.
And, finally, leave something of yourself. As our stay at Lanjia Lodge nears an end, we are taken to a nearby organic "forest garden." There we write our names on small wooden signs and place them next to trees that we help plant. They are medicinal: a Chinese olive, valued for its use in skin care, and another that for centuries has treated stomach ailments. This project, we are told, is dedicated to Thailand's Green King, Bhumibol Adulyadej, who is scheduled to visit here in 2112, the year of his 85th birthday. Throughout his long reign, the king has done much to promote the health and welfare of his poorest subjects. We are humbled to think that we have, in this small way, added to their future well-being.