|
Lakeside Green Style
|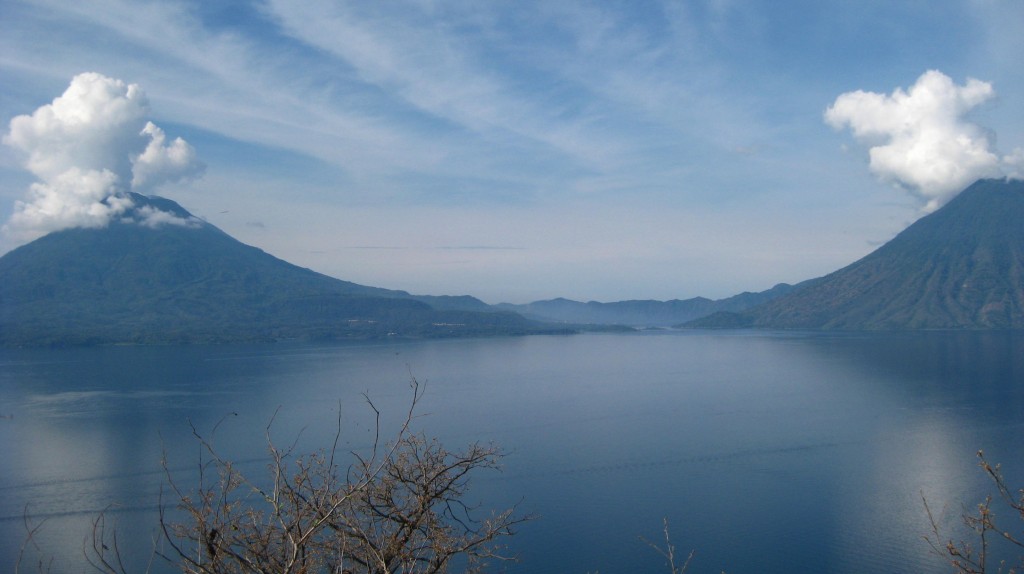 The first word that springs to mind is drama. OK … maybe after wow! The lake itself is drama in liquid form. One of the 4 sacred lakes that bounds the traditional world of the Guatemalan highlands, Lake Atitlan is a total oh-wow stunner. A deep caldera filled with cool fresh water at more than 5 thousand feet above sea level. Framed by a trio of dramatic volcanoes wrapped in billowy shawls of cloud. Indigenous villages dotting shoreline escarpments. All day long, travel and trade skim over the lake's clear blue waters, which are as moody as the southern wind called Xocomil that arrives without warning to kick away the calm.
Then there is Laguna Lodge Eco-Resort & Nature Reserve.
We had been poking around Atitlan's northern shore—in particular, the village of San Marcos la Laguna, Central America's take on India's Goa or the laid-back, New Age vibe of certain coastal towns in Northern California. Lots of chill expats and Lonely Planet backpackers, easy place to get a great massage or smoothie, and you see the word "eco" splashed here and there. As inviting as this scene is, we've been there before: this "eco" too often means holes in your mosquito netting and questions of sanitary standards on your plate. We decide to look further for organic—dare we say interesting organic?—dining, and green lodging that can be called great.
"A donde va?" asks the captain of the water taxi. Where to? We tell him Laguna Lodge. He shrugs and gives us a lop-sided grin. The place has only been open a few months. Not even all the locals know it yet. But you should know it. You most definitely should.
A different dimension of eco
Just past the Maya Kaqchikel village of Santa Cruz la Laguna, we realize we have entered a different dimension of eco. Looming at water's edge is a vision from a travel brochure—a handsome lodge of local volcanic stone, adobe, wood and palm. Against the backdrop of its own 100-acre private nature reserve called Tzantizotz (in local Kaqchikel, Point of Bats), which ranges from the lake front to high altitude tropical dry forest. As we said, drama. The drama of a world-class eco-resort. Both intimate and cosmopolitan. And, as we soon confirm, deliciously, delightfully green.
Unless you hike a shoreside trail from Santa Cruz, you can only arrive by boat. A welcome party waves us in to the private dock. Fresh organic juice is presented in a frosty glass and our luggage is carried off to a lakeview suite with private balcony. There are only 6 here (with plans to add a few more), each different but all with king beds, fine linens, indigenous woven textiles and recycled furnishings (antiques). The bedding and pillows are vegan hypoallergenic. The en-suite bathrooms are resplendent in green Guatemalan marble and feature double artisan basins. The fluffy towels are locally produced from unbleached cotton. Toiletries are from natural botanicals. A small spa offers natural treatments, an indigenous sauna and a spa pool of smooth river rocks. (A yoga space may have been added by now.) "Authentic eco-chic luxury" is how the lodge is marketed, and guess what? It's true.
But that only begins to tell Laguna's green creds. We're talking solar power, filtered rain and lake water for drinking, adobe bricks made from clay quarried near the lodge's own organic garden, natural cleaning, low or zero VOC wall and furniture finishes, native trees seeded in the lodge's nursery for carbon offsetting , and on and on….
Meet Mayah and Jeffro
Read all about it under Vision/Action on the lodge's website. We urge you to do this. The subject headings alone paint the picture: energy conservation, water conservation, vegetarian food; reduced use of plastics; other sustainable materials; chemical reduction; waste management; pest control; ecological, renewable & recycled materials; local providers; education; employees; reforestation; philanthropy; lakeside care; carbon offset.
Where, we wonder, is all this coming from? Guatemala is (in our humble estimation) the best reason to visit Central America, for its intact Mayan culture and splendid historical sites, its stunning geography and warm hospitality. As in other developing nations, most of what's green here has simply never "modernized."
Then we meet Mayah and Jeffro. The engaging couple who own Laguna Lodge. Within the first few minutes of our meeting, we have our answer. It's them. They did not create Laguna Lodge because marketing studies say demand for great green destinations is growing. Laguna Lodge—as a place that minimizes its carbon footprint and gives back to the communities that surround them—is how they live. Mayah is a Kiwi trained as a psychiatric nurse who worked with the Masai in Kenya and cooked on the radical environmentalist ship Sea Shepherd. Intense and focused. She happened upon Atitlan in 1990, bought a cheap piece of property in the hills of the village of Santa Cruz and built a small, solar-powered house. She met Jeffro in 1997. He's an Aussie surfer and looks it. Big smile, big heart. He's been a white water rafting and sea kayaking guide, and a member of a championship kayaking team. He is also a talented carpenter.
Bingo. Big chemistry.
Everything by water
They became partners in love and business. They turned their shared knowledge and zest for world travel into a company that designed and produced environmentally responsible goods for exportation in the Bahamas and Indonesia. That venture continues, but lately Laguna Lodge is the center of their world.
Jeffro and his indigenous crew created the Tzantizotz Nature Reserve by replanting over-grazed slopes, restoring old Mayan trails and cutting new ones. They built resting pavilions to offer panoramic views of the entire lake. They made the adobe bricks used to build to the lodge. And every brick and stone, every stick of furniture, every dinner plate and kitchen appliance arrived via water, most on Jeffro's small motor launch (with its eco-efficient 4-stroke outboard engine).
We haven't mentioned the food. It's delicious. It's entirely vegetarian. And creative, seasonal, organic, almost entirely local. During our stay, we ask a fellow guest, a well-traveled software executive from Silicon Valley, how he is enjoying his veggies. "Oh, there's no meat is there?" he replies. "I hadn't really noticed."
Eco-vegetarianism
Mayah and Jeffro would be pleased to hear that. Their website refers to the documented benefits of vegetarianism for human health and animal welfare, and also offers data on the high environmental costs of raising livestock. "So many high-end resorts do so many green things but shy away from the green implications of vegetarianism," Mayah tells us. To truly be a green resort, she believes, take meat off the menu. It's a conviction she backs up not only in the lodge's "fine eco-cuisine" but also with concern for all living things: staff is pleased to "relocate" any unwanted insect. (We didn't see any in our room.)
The other litmus test for calling yourself green, in Mayah's view, is community involvement. We agree, and just wish we had been there on Opening Night, December 26, 2008. It was like a community stage production…. The indigenous carpenters and other workers, many of whom can't read or write and use fake signatures of spirals or swirls, hurry to finish last-minute tasks. Then they scrub up and pull on clean waiter's outfits. Over the past few weeks, they have learned many strange and new things. Like how to serve on the diner's left, how to open a wine bottle. In their villages, glasses are plastic or thick glass—many wine glasses were sacrificed during the training. Though it's still rare for traditional village girls to work, the daughter of Santa Cruz's headman is the night's sous chef. Finally it was showtime. To a full house.
"It went great," Jeffro tells you with a broad grin.
"Yes," Mayah agrees. "It's been an amazing journey."
Green Traveler Guides is an award-winning green travel website and e-book publisher.