|
Meeting Mr. Green
|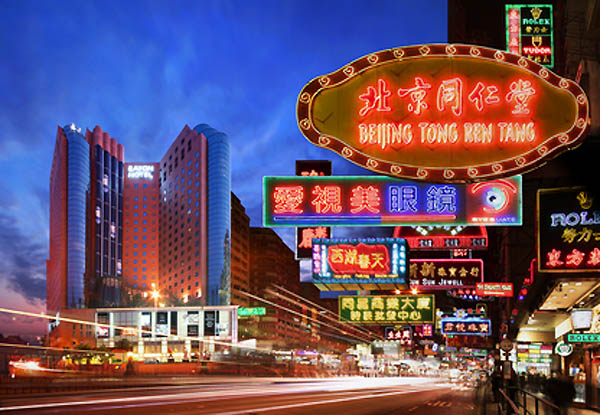 On Kowloon Island, in Hong Kong's energetic Golden Mile shopping and commercial district, the sleek and modern Eaton Smart, Hong Kong presides over Nathan Road like the world-class hotel that it is. Its top-notch amenities, central location, helpful staff and elegantly appointed rooms with amazing views of the Hong Kong skyline offer everything a road-weary traveler like me could want.
And then some. Luxurious accommodations are not hard to find in this teeming beehive of a city. Genuinely green accommodations are.
So, during my stay in Hong Kong, I jump at the opportunity to meet with Mr. Green himself. Actually, his name is John Dick, and he's vice president of Eaton Hotels International and environmental champion (yes, that's his real title) for the parent company, Langham Hotels International. His company recently announced participation in the EarthCheck green certification program, and I want to understand what is really happening "on the ground" with their hotels and resorts around the world.
Real green or green-washed?
You should know I go into our meeting somewhat skeptical. Dating from my years working in environmental PR, I'm perpetually trying to separate the real deep-green pioneers from the green-washers. Companies—both large or small—make grandiose claims about their environmental practices, but good ideas end up costing too much to actually implement, or managers don't get the support they need to follow through on their CEO's broad-reaching promises made to impress investors.
Or, regrettably, it's too often all a cynical play to increase sales.
Quickly, I find my skepticism is misplaced. A 38-year hotel management veteran, Mr. Dick is refreshingly candid about the challenges of greening a renowned brand such as his. And I am thoroughly impressed with his no-nonsense approach to implementing concrete, substantive changes, his eloquent and passionate advocacy for sustainability.
The green goods
These are some of his initiatives that stand out:
Independent certification. By signing onto the rigorous EarthCheck program, Eaton has elected to join a growing international movement to analyze, measure and verify actions that reduce their ecological footprint. Unlike organic foods, for which environmental compliance is an integral part of their marketability, hotels don't really need to be 'green' certified to sell rooms. But, as Dick is eager to point out, going green is a smart business move. It will yield a quantifiable return on investment by saving millions of dollars in energy efficiencies. And as you and I can attest, more and more of us are indeed "voting" for the environment with our wallets.
Innovation. Eaton has installed the largest interior living green wall in a hotel in Hong Kong—it looks cool, to be sure, but it also reduces indoor air pollution and lowers the indoor temperature, with less use of energy-hogging air-conditioning. The green wall has nearly 4 thousand sansevieria trifasciata plants, also known as
mother- in-law's tongue or snake plants. Every 10 plants purify 100 square feet of air.
Green building materials. A recent refurbishment of the hotel's lobby level includes the sourcing of locally harvested bamboo for floor and wall paneling, all the more important in Hong Kong, which must import nearly all building materials.
Green teams. Too often, environmental leadership is a top-down approach that falls short of motivating employees to nurture the effort. Each Eaton hotel has a team that develops new green programs specific to their properties, builds alliances with local community organizations, and points to ways of engaging hotel guests in their cause.
The kitchen. Eaton's Japanese restaurant Yagura is the first in Hong Kong to stop serving endangered blue fin tuna, and the hotel's culinary team is now facing up to an even more difficult task—how to stop serving shark fin soup. That's no easy task in China (to learn more about this horrific issue, watch the brilliant documentary Shark Water).
Giving back. Eaton in Hong Kong donates 50% of its savings from guest reuse of towels and bed linens to local NGOs that aid needy Chinese communities and causes. Dick hopes to roll out this same program internationally to sister Eaton and Langham properties.
Transparency. "Show me a better way, and we'll do it" is Dick's attitude towards on-going innovation.
For a full run-down of Eaton's initiatives and achievements, see this excellent case study.—Michael Straus
Michael Straus is a Contributing Editor to Green Traveler Guides, an award-winning green travel website and e-book publisher.