|
Water, Water Everywhere
|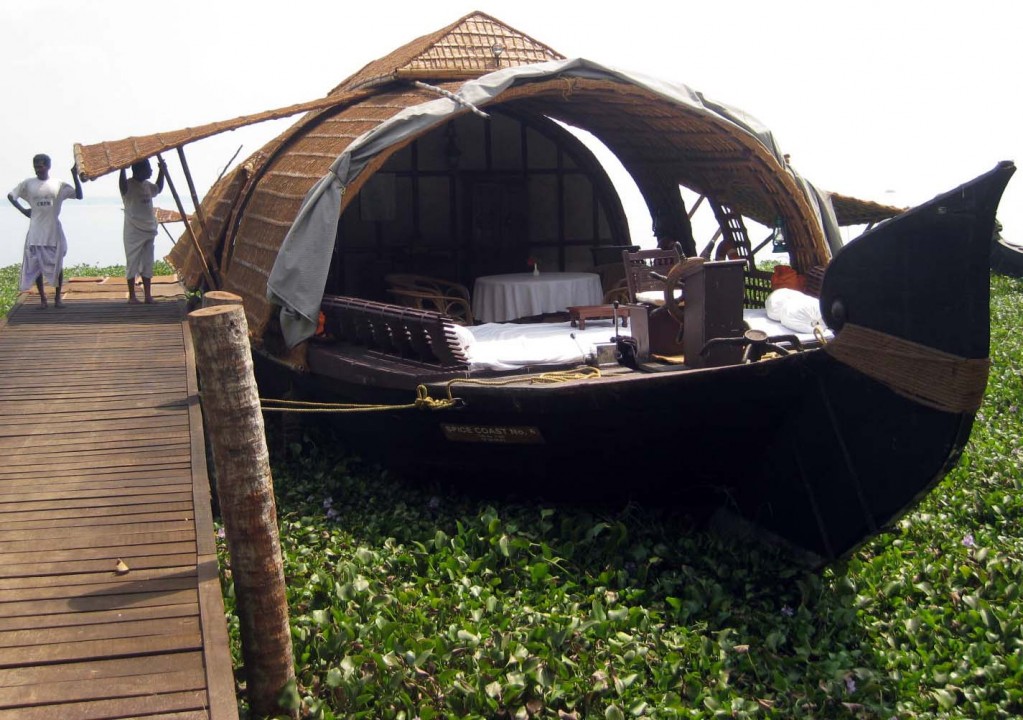 In the state of Kerala, greenest in all India, there are not 1 but 2 monsoon seasons each year. But that is not the water that creates our reality just now. We're in the Kerala backwaters … a lattice-like network of waterways—29 lakes, 41 rivers, estuaries and canals—that parallel India's southwestern coast for some 100 miles from the Cardamom Hills in the Western Ghat mountains to the Arabian Sea. In Malayalam, the local language, they call this Kuttanad: land of the short people. This refers, it's said, to the rice farmers and fisherfolk who work knee-deep or more underwater.
Without question, the backwaters reveal a fascinating, distinctive way of life. A place where water extends in every direction, where people have evolved a way of living in which the water means everything—the means of travel, even if only to visit a neighbor on the opposite bank of a languid canal; of buying and selling from the floating merchants; of obtaining food, through fishing or working in the bordering rice paddies; of bathing, laundering and more. The backwaters are also an ancient network for conquest and transport. Aply named "snake boats," 100 feet long with raised prows and requiring 100 or more paddlers, came into being here as war canoes, and are still seen in fiercely competitive races between villages. Kettuvallum (literally "boats tied with knots" because of their traditional construction from hand-shaped timbers of angili, a local hardwood, bound together and waterproofed with cashew oil and coconut fiber) were the workboats. They plied these waters ceaselessly, hauling consignments of rice, bricks and other goods. The coming of the rail system rendered them obsolete.
About a decade ago, these rice boats began to be reborn as tourist conveyances. You cruise for a few hours or a few days, seeing firsthand the backwater way of life and the unspoiled backwater universe. These cruises have become very popular. As often happens, we are now on the verge of too much of a good thing. Some 800 rice boats cruise these waters now, with more being built every year. Many accommodate only 1 or 2 couples, but others pack in a gang. We saw a hulking boat with a swimming pool on its roof, and many sport satellite dishes and big TV screens. Nature and a traditional way of life now compete with Indian music videos for our short attention spans.
Recycled kettuvallum
Green travelers should not miss this unique Indian exploration. But choose carefully. Look for operators who use recycled kettuvallum and sustainable practices. Our recommendation is Spice Coast Cruises, run by ultra-eco-friendly CGH Earth, which also owns a group of green hotels in Kerala and elsewhere in southern India. All 6 of their craft are original rice boats made of, and outfitted with, traditional local materials like bamboo, coir (coconut fiber) and areca nut palm bark. No TVs on board, but you won't lack for comfort or fantastic food. The sleeping cabins are very well appointed, with nice private bathrooms (human waste is collected in a holding tank for pump-out at the end of the cruise … a huge plus for maintaining the health of the local eco-system; CGH Earth, in fact, has been in the forefront of efforts to get government requirement of this practice). As the man in his traditional mundu (skirt) sits at the helm wheel under the shade of an umbrella, you lounge extravagantly on plush cushions or antique furnishings, peering in wonder through the binoculars you've been handed; or maybe just sipping a cool drink. At the appointed hours, amazing feasts of backwater fish, prawns and other local staples like the marvelously plump organic Kerala rice, miraculously appear from the small galley at the stern.
Ahhh. So this is how the rajas felt, or the sumptuaries of the British Raj, at least.
Still not convinced there isn't a more blissful way to experience southern India? Ask Paul McCartney when next you bump into him. The former Beatle honeymooned on a Spice Coast Cruises boat.