| Green Sugar Sand |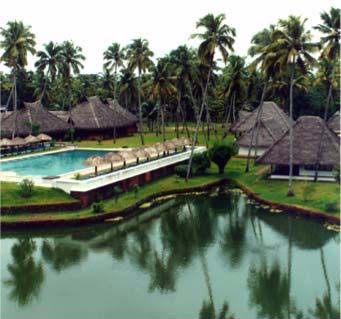 The western edge of the southern Indian state of Kerala is virtually a long beach, but this isn't the Costa Brava or even Goa. Only relatively few stretches are traveler-ready, and these, like Kovalam in the far south, are rapidly becoming overdeveloped to the point of serious strain on their eco-systems. Midway up the Malabar Coast, however, between Cochin (Kochi) and Alleppy (embarcation point for most Kerala backwaters explorations), is Mararikulam. It's a typical coastal fishing village with boats shaped like watermelon slices resting on the sand, fishermen mending nets in their shade. It has an exceptionally fine stretch of beach, quiet and unspoiled, crabs scuttling. And that is why it is also home to Marari Beach Resort, where you can have your own—almost—sugar-soft sand, and be green as grass to boot.
Marari is not a party place, though it does have its beach bar and sand volley ball court. It's defined instead by its pair of yoga centers and an ayurvedic spa, where you consult with the resident ayurvedic doctor before enjoying natural therapies in the ancient Indian healing tradition. During our stay we choose podikizhi, sychronized massage by 2 attendants followed by warm, fragrant sesame oil poured over our bodies in a prescribed manner for a full hour, an indelible, indescribable experience. Afterwards, we feel quite basted—and blissfully rejuvenated.
The resort is sprawling: 55 acres of palm groves and lawn, a butterfly garden and lotus ponds, with garden villas and walled pool villas inspired by the fishermen's palm-thatched homes but upgraded to the standard of a luxury resort. This is a CGH Earth property, and thus good environmental stewardship is the highest priority. Marari Beach has its own wastewater treatment plant. Water is solar heated. Kitchen waste becomes biogas and compost to nourish the organic gardens, which are further supplemented by vermiculture. Only natural cleaners are used. No pesticides. Guests are encouraged to conserve energy and water, and can take an environmental tour of the grounds.
Be here now
We look forward to daily tea time, when sweet, milkly South India coffee and masala tea (chai) are served from a cart at poolside. You'll surely be dining at the resort, at the excellent and almost overwhelming buffets at Chakara, the main restaurant (we love each evening's special starter, created to order with just-harvested veggies from the organic gardens). The beach grill becomes a fresh seafood and barbecue option at night. All in all, a perfect introduction to the tropical tastes of Kerala and greater Indian cuisine.
After a few days of this, the true allure of this secluded and natural setting becomes radiantly, abundantly clear. This is not about temple-hopping and wearying schedules. This is not the India of madding crowds, dubious sanitary standards, environmental degradation. Marari Beach is about healthy mind and body, serenity of spirit and utter, infinite calm. And all in a thoroughly upmarket, even luxurious, setting. Namaste, and could you be so kind as to pass the organic cucumber turmeric juice?