|
A Village Green
|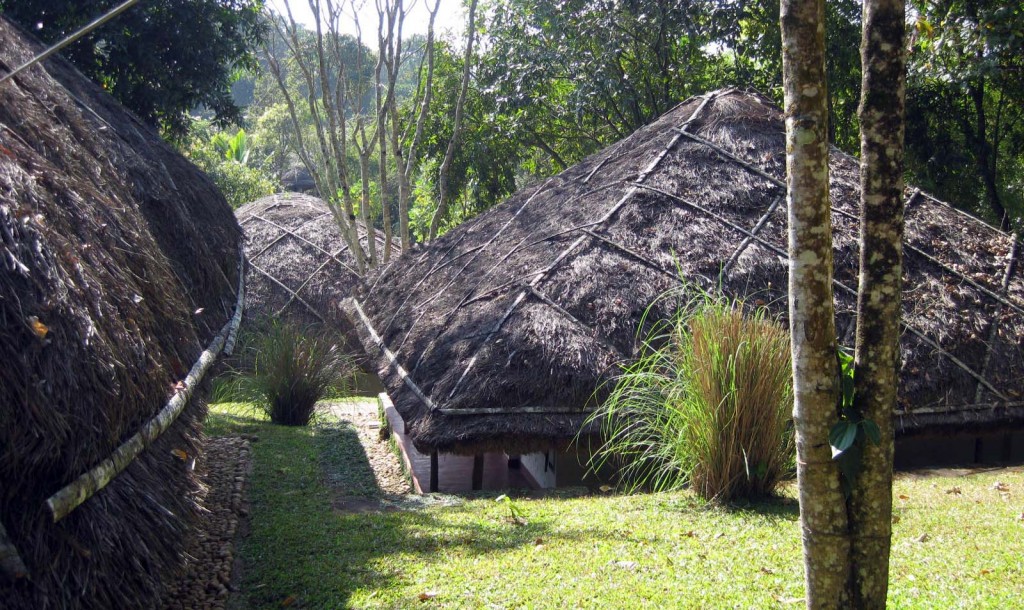 We're climbing most of the 5-hour drive from the Malabar Coast (in that cartoonish Indian classic, the white Ambassador sedan). Past coffee, teak, rubber and tea plantations splayed across the hillsides, chaotic villages and lush forest, until the air cools perceptably and sends us motes of cardamom, cinnamon, clove. We're now in the High Country of the Indian state of Kerala. The Cardamom Hills. Where spices still flourish and tigers still roam.
Our destination: the village of Kumily, famed for its many shops that peddle the spices (including organic) grown here—and for Periyar Tiger Reserve, more than 500 square miles of protected nature and wildlife extending into the neighboring state of Tamil Nadu. And for a green resort known as Spice Village that is certified organic (by a European certifying organization). Operated by the CGH Earth group of destinations in South India, this resort has 52 tribal-styled, thatch-roof cottages on a gently rolling landscape of fruit and other trees (some 50 are years old) interspersed with medicinal plants and herbs. The resort was built on the natural contours owned and planted into this vertible arboretum by A.W. Woods, a barely literate Anglo-Indian whom the British Raj in the 1930s made guardian of the forests here and 1st ranger of the Periyar reserve.
Spice Village does everything right, offering all the comforts of a luxury resort (except unneeded AC and television) with an infrastructure that is as earth-friendly as any we've seen. Waste water is treated in the resort's own plant, where kitchen waste is also converted for use as biofuel, biogas and compost in its extensive organic gardens. The swimming pool is sanitized without use of chlorine. Water is solar heated. Only natural cleaners are used. No chemical pesticides or herbicides. The ayurvedic spa, staffed by ayurdedic doctors and staff trained in the ancient healing therapies of India, uses only natural and organic products, many harvested on the property.
A locavore's delight
The kitchens do an excellent job of introducing you to the wonders of Kerala cuisine, relying heavily on the organic gardens. The main restaurant puts out lavish buffets at most meals, and they are first-rate. The other evening choice is the 50-Mile Restaurant, a locavore's delight that sources all ingredients from within this radius.
As pleasant as it is to linger for complimentary yoga and meditation, classical Indian dance, paper-making and cooking demonstrations or tours of the grounds, the lure beyond the village is too strong, too wild to ignore. Spice Village has its own staff of 3 naturalists. And on an early morning, 1 of them, a handsome young man named Praktheesh leads us into the Heart of Darkness …
"Yesterday they were here," he whispers, reaching for the binoculars hanging across his bush vest, as we reach a broad meadow inside the Periyar Tiger Reserve. We see evidence of plodding feet, massive bodies rubbing against trunks of trees, very fresh dung. What will tell us that a herd of wild elephants is near? Our other guide, a tribal from 1 of 3 tribes relocated from the forest and resettled to its edges, where they have been taught to protect where before they poached, says something to Praktheesh. "The smell," he translates. Once, some time later, the tribal guide catches the scent, for an instant. And then it is gone. A tiger could be watching anywhere. In the underbrush of Periyar, these magnificent animals are invisible. Unless they emerge to drink from a watering hole, or to attack. As many as 40 are known to inhabit the reserve.
They are "caught" in photographs taken by automatic cameras tripped at night. We see the particular tree, a bishop's wood, that male tigers seek out to mark their territory. It is deeply gashed. No elephant, no tiger, yet we are far from disappointed. In the filtered light and mist of morning, the forest is breathtaking. Its infinite quiet punctuated by the call of many birds. We walk marshes completely pocked by footfalls—none of them human but our own. A family of nilgiri langur, large black monkeys native only to this area, peers down from the canopy. A herd of large sambur deer stay close, to listen for the langur's warning if a big cat stalks nearby. In the distance is a huge Indian bison. We see more than 2 dozen species of birds, and hear the panicked wing flapping of a great Indian hornbill as it flees at our approach. In all, some 2 thousand plant and tree species and 300 bird species inhabit the reserve. And leopard. And black panther. And huge python.
Of smugglers and spice
This is community-based eco-touring, enlisting the support of, and supporting, local people. A similar venture, which Spice Village helped to launch, is a fascinating glimpse into the traditional rural life and farming of nearby Tamil Nadu state. Via a savara vandi, a bullock cart—how green is that? At a leisurely pace we see field after field of tropical fruits, nuts and vegetables, many bird species, unfamiliar trees like the cotton tree (whose cottony pods are used for mattress stuffing). We pass Indian families beating laundry on river rocks, then draping them on low bushes to dry. It's like a scene out of National Geographic. Best of all are our smiling and enthusiastic guides, who jump from the cart to bring back fruit or point excitedly to a new bird, shouting out its name in fractured English. They are members of a caste that for generations have been sandal wood smugglers. Now, instead, they guide travelers like us through their village way of life.
Finally, no visit to Kerala's fragrant heights is complete without a spice plantation. Many are open for visits, but we recommend the natural, certified organic beauty of Abraham's Spice Garden. The BBC was so impressed by these hilly 2 acres of forest, or permaculture, garden that it became part of its series Around the World in 80 Gardens. It's very much a family business, and if you're lucky, energetic Mr. Abraham himself will lead the tour. He'll tell you the garden was started by his grandfather in 1952, and show you how he nourishes the soil in the spice and fruit groves by simply digging holes and then filling them with leaves and water to create compost. He knows the many health benefits of his trees, plants, roots, and fruit (example: the curry leaf used abundantly in South India cuisine is rich in calcium and anti-oxidants). He'll point with a bamboo stick to the delicate cardamom flowers and later show you the miniature hives of the tiny black bees that pollinate them. You'll discover how even the leaves of cinnamon and allspice trees are packed with flavor. You'll see vanilla orchids, clove and allspice trees, pepper vines (black, white, and pink come from the same plant but undergo different processing), roots like ginger, turmeric and taro, fruit like rose apple, tree tomato and 23 varieties of banana, cashew nut and coffee.