|
The North Shore
|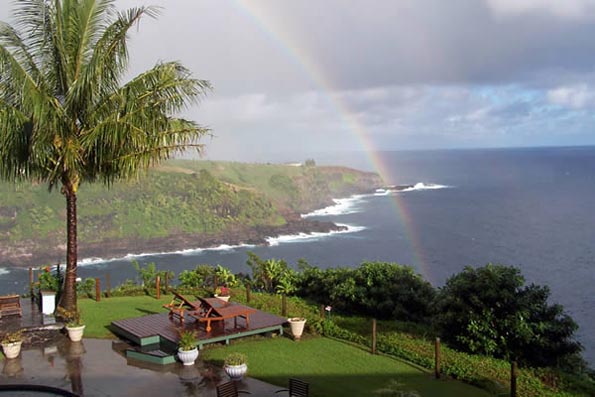 This is more like it. At first glance, Maui seems a bit of a puzzler for the green traveler.  It's been too successfully marketed as a paradise of luxury resorts and world-class golf, neither of which have historically fostered much in the way of earth friendliness. These are concentrated almost entirely in sunny West Maui and the leeward side of the island's eastern half. Central Maui resembles the strip mall sprawl and auto congestion of, say, South Florida.
But now we take a deep breath on the North Shore. The beaches and the Pacific waters are just as glorious. The little town of Paia is part surf bum, part New Age seeker—and boasts Mana Foods, the best independent organic and natural grocery on Maui.
Nearby, hidden down leafy lanes and nestled in tropical clearings are lodgings that offer an authentic and eco-conscious experience.
Our green favs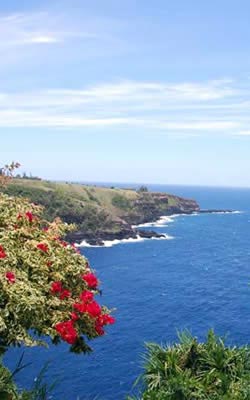 The Cliff's Edge. Huelo Point is a magical secret on the North Shore. Lush. Green. Rural. You feel far from package vacations. Down a dirt road and a long driveway is a 2-acre tropical estate. The Cliff's Edge is a good name for it. Because when you first see the vista that awaits, it will take your breath away. From your lanai, the hot tub, the pool, your suite or cottage, it will take your breath away. The awe-inspiring views are of beautiful Waipio Bay and the azure Pacific, unto infinity. As seen from a bird's perspective—for true to its name, The Cliff's Edge is perched securely atop a lava cliff, 300 feet above the sea.
Innkeepers Susan Farina and Jon Henderson have created an eco-friendly viewing station for sea, sun and sky. We're especially fond of the Bali Cottage's open floor plan, marble floors throughout, custom furniture and romantically designed lighting. The lanai has a private hot tub and outdoor shower.
What we like most is that Mother Nature is center stage—day and night. The rain catchment is also great: state-of-the-art porcelain roof tiles into copper gutters with a filtration system. Because all water is heaven sent, guests are encouraged to conserve. The pool and hot tubs are chlorine-free salt water. Cleaning and grounds-keeping is non-toxic.
Green seclusion
Maui Ocean Breezes. The breezes bring only quiet of rustling bamboo and birdsong. Secluded, yet only 15 minutes from the airport and closer still to Hookipa beach. Maui Ocean Breezes is a 3-acre, eco-friendly retreat presided over by the welcoming green presence of Anjali and Ken DeSure. The artist in Anjali has decorated their simple accommodations—even fridge doors!—in a marine theme that is both spirited and calming. Everything is tidy and spotlessly clean.
In all there are 3 options from which to choose, but our pick is the cottage, Whispering Bamboo, with its fully equipped kitchen. All guests are welcome to share the 40-foot pool.
No pesticides are used anywhere, and the organic bed linens are dried by the fresh  tradewinds. The pool uses a saltwater anti-bacterial system instead of harsh chemical chlorine.
Eco-spirited luxury
Huelo Point Lookout. The Lookout itself is hardly undiscovered—its luxury accommodations have been noticed by National Geographic Traveler and Condé Nast Traveler. We would like to introduce you to the eco-spirit that underpins it all.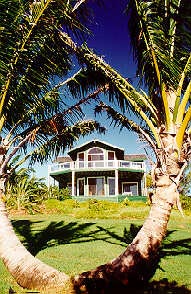 Jeff Stone used to be a San Francisco dentist. Sharyn, his Australian-born wife, was an actress. These days you'll likely find them and their daughter Kai Nalu (Ocean Wave) happily tending the herbs and veggies in their organic garden, plucking ripe tropical fruits, or gathering organic eggs from the chickens that share their idyllic 2 acres. They will be the first to advise you that here, unlike at the resorts, you'll see geckos, ants and spiders (all harmless). No toxic pesticides are used to kill them off. But you need not sacrifice comfort to share their "real" Hawaii. Appointments are first rate, inside and out—tasteful furnishings, wraparound lanais, hot tubs, a waterfall and koi pond, 44-foot rock-walled pool, custom-tiled outdoor showers, and those priceless views of garden, sea and summit. Visit the garden's bounty yourself. Or have gourmet meals or a relaxing massage delivered to your door.
Look for the "green book" in every unit. Guests are urged to compost (or feed the chickens!). The beautiful Lookout House has fantastic views.
Off the grid and bamboo, too
Maui Retreat. Surrounded by jungle and ocean on 15 organic acres alive with mana (sacred power),  Swiss-born Kutira Decosterd and Raphael Sharpe promote "a new consciousness of alternative energy and living organically in harmony with nature." Totally off the grid (solar powered with biodiesel generator backup), this bamboo retreat center and bamboo farm invite you to learn about structural bamboo and its many eco-friendly uses.
Nature plays a big role here. The gardens and fruit trees are a delight, and trails lead to the ocean and an ancient heiau (temple); nearby, a 100-foot waterfall plunges to a trio of natural swimming pools. The man-made structures are strategically situated over the expansive grounds. Some are for the enjoyment of all—the Balinese Meditation Temple with its koi pond, for instance. All are of sustainable lumber, mostly bamboo and recycled materials. They blend Hawaiian and Asian design. Opua House offers 4 guest rooms (3 rooms share a bathroom and all share the gourmet kitchen and living room).  What totally capitivates us, though, is pyramid-shaped Eco Cottage. A covered bamboo bridge leads to the carved door entrance. Elegant furnishings and art work from around the world are meant to evoke the "creative feminine spirit." In winter months, you can watch whales from the breakfast table.
Healthful drinking water, naturally alkaline, gushes from a deep well here. Kutira passionately supports green building and sustainability. She's an adviser to the Himalayan Alliance for a Clean and Sustainable Environment, a Green Dragon Protector of Bhutan and a founder of Bamboo Technologies of Maui.
On the farm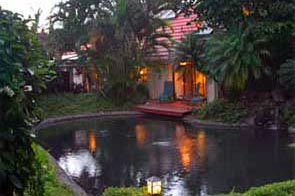 Huelo Point Flower Farm. Being down on the farm has never been so easy. And luxurious. For more than 2 decades, this has been an organic fruit and tropical flower farm with guest accommodations—all with spectacular ocean vistas—rivaling the best vacation rentals on Maui. Now, since adding extensive solar power generation, increasing the farm's rainwater catchment capacity and other methods, owners Ted and Shannon Richardson have made their farm completely energy and water self-sufficient. The dynamic Richardsons will happily tour you around their grounds. Better still, wander through the gardens and lush orchards and pick your own. Think brilliant tropical blossoms, juicy papayas, mountain apples, mangos, bananas and star fruit and more. Don't miss the organic veggie garden!
Stay in one of 4 residences ranging from a dramatic glass-walled gazebo cottage to a stunning 2,000 square foot home with 3 bedrooms, cathedral ceilings and luxurious sunken tub in the master bath. All guests enjoy the 50-foot swimming pool with waterfall or can relax in their own hot tub. To supplement the farm's bounty, a twice-weekly pantry stocking service is complimentary. Don't feel like cooking? A private chef can be yours at additional charge. And to sweat off the calories, there's a gym. Massage and facial treatments are also available.
The Richardsons host local schools and community groups interested in permaculture and organic farming. And they have established a residency program for young artists, allowing them to "work alongside established artists while developing and maintaining sustainable agriculture as well as energy self-sufficiency."
Let us guide you to all things green & great in the Aloha State. Download your own copy of our award-winning e-guide, Green Traveler Guides Hawaii. We sleuth out travel you'll love.