|
A Green Icon
|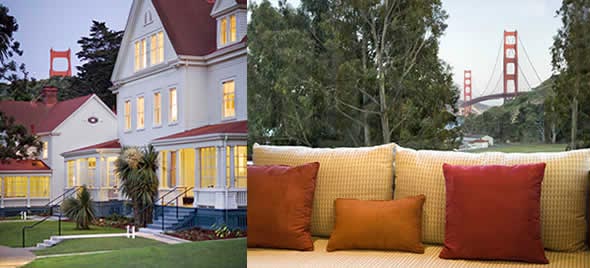 Kudos to the National Park Service. They've succeeded (with the help of other green-spirited souls) in recycling one of the San Francisco Bay Area's iconic military reservations into one of the region's brightest green gems.
It's now called  The Lodge at Cavallo Point. Right after it opened, the New York Times named it a top summer destination, so you may know that it is a former Civil War-era military post at the edge of historic Sausalito. Now converted to an urban national park luxury lodge at the foot of the world's most famous bridge. Restored were 29 graceful 2-story buildings around a vast parade ground—pressed-tin ceilings deleaded and reused, hardwood floors and fireplaces restored, reclaimed materials for furnishings and decor. LEED (Leadership in Energy and Environmental Design) standards integrated with original windows and other historic elements of the former officers' quarters, barracks, gym and chapel. Fourteen new buildings replaced 1960s-vintage (read: ugly) army homes. These guest rooms and suites have rooftop solar panels; radiant heating; low-VOC glues, paints, and carpets; insulation made from recycled denim; and windows that minimize heat loss. Organic bedding is standard in all guest accommodations.
Several big hotel chains vied for this choice locale, but Cavallo Point was awarded to a development group that included management by eco-conscious Passport Resorts (Jean-Michel Cousteau Fiji Islands Resort, Post Ranch Inn in Big Sur). The park service liked Passport's eco-friendly philosophy, the scale of the proposal (only 142 rooms) and the guarantee of space for a new organization, the Institute at the Golden Gate.
Michelin-rated Murray Circle
The Institute promises to be a beacon for the most important voices and minds in the green world. A joint project of the Golden Gate National Parks Conservancy and the park service, it hosts green conferences and sponsor lectures, among other activities.
Much more could be said about the superb job that is being done here, its unique setting and style. To name a few: a destination restaurant, Murray Circle, that showcases local, organic farming elevated by Bay Area star chef Justin Everett. A cooking school for "learning vacations." A full-service spa. Music, events and yoga in the restored chapel. Outdoor adventures in the Marin Headlands and beyond.
Cavallo Point exemplifies a benchmark in stewardship of the past, present and future.