|
Greening in Paradise
|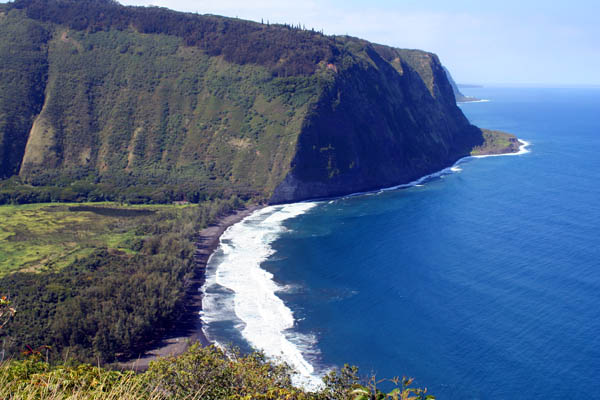 Want a Big Island paradise of green? Lush and tranquil? A place to feel Hawaii's peaceful spirit? Go to the Hamakua Coast. It begins north of Hilo, on the island's east side, lazing northward through tangly jungle, fruitful farm and ranch lands, past sleepy towns to mythic Waipi`o Valley, the all but untouched Shangri-La of the Big Island.
Along the way, here is where to stay.
Green and great, all.
A fantasy place
Just north of Hilo is 250'-deep Pohakumanu (rock bird) Bay, a fantasy place where humpbacks scratch against the cliff sides and spinner dolphins stage circus aquatic displays. A hundred feet above, on a 3-1/2 acre estate, is the Palms Cliff House. Owned and run by John and Michele Gamble, who brought their eco-sensibilities from Denver while happily abandoning the harsh winters.
The Gambles have created a destination that rivals any small inn in the state. It has been singled-out by eco-savvy Outside magazine ("10 Best Inns & Lodges") and Travel & Leisure ("30 Great U.S. Inns" and "50 Most Romantic Places to Stay"). The inn has the idealized look of an old plantation home (it isn't—the main wing was built in the 1990s as a private home). Nobel Prize winners have lazed in its in-suite whirlpools with ocean views. Pampering includes 4-poster beds with plush mattresses, pillows in 3 firmnesses, and spacious marble showers. Rest easily, too, knowing that sheets get laundered with bleach-free, biodegradable detergent, and that vinegar is the cleaner of choice. Gourmet breakfasts star organic fruit from the property (mango, banana, star fruit, tangerine, avocado, grapefruit, by the season). Water is from the inn's own well. Cooking classes are held in the inn's kitchen, and therapeutic and traditional Hawaiian massage, and hula and lei-making lessons are available. Weddings on the grounds can include a Hawaiian kahuna (priest).
Guests are asked about allergies or food restrictions, including vegetarian or vegan preferences, and are encouraged to recycle; if requested, sheets will be separately washed with hypoallergenic detergent. Pest control is non-toxic.
Eco-luxe, sun-powered
Want to prove to eco-clueless friends or family that "green" and "off the grid" do not have to mean rustic? Head up the slopes of Mauna Kea, to 2,500 feet, past a goat dairy, grazing cattle, and preening wild turkeys. Arrive at Waianuhea Bed & Breakfast, in lovely Ahualoa, midway between Kona and Hilo. Waianuhea means fragrant mountain mist, but here you will find an eco-luxe experience powered by the sun. Five separate solar systems, including 4 "trackers," dog the fiery orb's every move. On a clear day the observatory atop Mauna Kea looms mauka (toward the mountains) and the Pacific fills the makai (toward the ocean) horizon; the inn's expansive lawns are rolling and green, and there's a pretty little lily pond for an afternoon's meditation.
Carol Salisbury, a Hawaii native, and partner Reed Santos have spared no expense in creating a soothing, tranquil experience for the discriminating traveler. (Although if you must, watch satellite TV on your flat panel LCD, or borrow from the huge DVD library.) Daily maid service includes nightly turndowns. Placing the kukui nut lei on your bed means you are ready for fresh bed linens. Gourmet breakfasts and cut flowers make good use of the inn's organic gardens. Except for drinking and cooking, water is captured rain. Cleaning and landscaping use zero toxic chemicals. Other green practices are standard operating procedure.
Li`oli`o (brilliant) is a favorite room of ours, airy in golds and yellows; its lanai affords ocean views. The Kaulana Akea (spacious meeting place) suite is handicap accessible, perfect for family groups, and has a huge private patio. There's a massage room and outdoor spa whirlpool with commanding views to the ocean. Waianuhea's great room also hosts weddings, small corporate gatherings; meditation retreats occur 8 times yearly.
A caring green spirit
Two decades ago, Jackie Horne transformed a 1932 sugar plantation home into her dream. She named it Waipi`o Wayside Inn. It's on the makai side on the road that runs from charming Honoka`a town to breathtaking Waipi`o Valley. And today, she says with sincerity, the dream "is still fun." Her guests are beneficiaries of her caring, generous—and very green—spirit.
Like many estates on this verdant coast, this one is alive with flowers, nuts, fruit—organically grown macadamia, avocado, coffee, lychee, longon, 5 varieties of banana, mango, citrus and more. Glimpses of the ocean can be had through stately trees at the rear of the acre-plus property. All the inn's guest rooms boast furnishings recycled (read: antiques) from homes of former sugar barons. Jackie is a member of the Big Island's chapter of Slow Food and an eco-activist ("My papayas are non-GMO. I won't allow genetically modified plants on this property."). Her breakfasts reflect a passion for the pleasures of the table. A recent morning offered an organic feast of granola, juice from the estate's tangerines, eggs with wild salmon, green tea banana bread. And 1st-rate Kona coffee, of course. Jackie is always creating new recipes using organic ingredients, and for special occasions she gives the recipe to guests as a gift.
Two of her 5 guest rooms feature high-end air filters for sufferers from Big Island vog (volcanic sulpher and ash), asthma or allergies. The serene Chinese Room has white bead-board paneling and antique Japanese furnishings, and gives an ocean vista from the bathtub. The Bird's Eye Room offers private entry to the inn's expansive lanai and gazebo, where wedding celebrations with organic meals are staged. Guest toiletries are organic or natural, drinking water is filtered. Cleaning and pest control are non-toxic ("this is a no-poison zone," declares Jackie).
Go, green traveler. Go to the Hamakua Coast.